9 November 2006 Edition
Exciting new CD funds fight against racism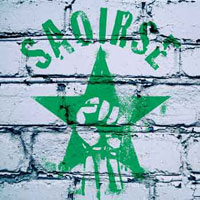 An exciting new CD entitled Saoirse is be launched at 5pm this Saturday 11 November in the Sinn Féin Bookshop in Dublin. Comprising a variety of artists and songs depicting struggle in the Irish and international contexts, the CD is the brainchild of a group of republicans working against racism in Ireland - Republicans against Racism.
One of those behind the project, ex-prisoner Michael (Dixie) Dickson explained: "We saw the need for republicans to get more actively involved in counteracting racism in Ireland. The CD is one way of promoting and funding our project. We approached a number of artists who have demonstrated concern about the issue of racism and they were happy to participate in the making of the CD."
Dixie wishes to thank artists who contributed to the production, the staff of the Sinn Féin Bookshop and Coiste na nIarchimí and everyone else who lent their support.
The inside sleeve of the CD quotes Sinn Féin TD Aengus Ó Snodaigh as follows: "As Irish republicans we should look at our history to learn not to do to others what was done to us. It is not that long ago when we were at the butt end of the racist attacks, abuse and slurs. It is not long ago that we too were discriminated against because of who we were." Among the artists featured are Black 47, Los Fastidios, Terry 'Cruncher' O'Neill, Pol Mac Adaim and others. It is expected that Larry Kirwan of Black 47 will be in Dublin for the launch on Saturday and all are welcome.
Saoirse will be launched at 5pm this Saturday 11 November in the Sinn Féin Bookshop, 58 Parnell Square, Dublin 1.
The CD costs €10 and is available from the Sinn Féin Bookshop, 58 Parnell Square, Dublin 1. www.sinnfeinbookshop.com