9 November 2006 Edition
North's Council shake-up must deliver equality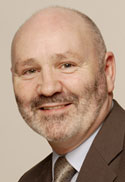 Sinn Féin Spokesperson on the Review of Public Administration, South Belfast MLA Alex Maskey has said that the new boundaries for the seven councils announced on Tuesday last will be looked at in detail to ensure that they meet the clear criteria of protecting minority communities.
Maskey highlighted specific concerns in relation to the proposed boundary changes for Belfast.
"Sinn Féin made it clear that our support for the specific seven council model was based on its ability to deliver safeguards, particularly for minority communities and on the need to lock down a legal system of checks and balances to deliver equality.
"While we broadly welcome the new boundaries for the seven councils, we need to look at the detail to ensure that in each new council area the requirement to ensure that no minority community is less the 20% is maintained", Maskey said.
"I have some concerns in relation to the proposals for Belfast. This is a council where there has been very positive progress, particularly in all the parties working together, in the main because of the political balance. I believe that this has been of huge benefit to Belfast and Sinn Féin will be looking in detail at the proposals for Belfast.
"Local people can and should come up with far more imaginative names for the new councils that can reflect their new identity.
"The next stage in this process is for the Boundary Commission to look at the new councils on a ward by ward basis and we will be working closely with the new Commissioner to ensure that any attempt at gerrymandering is resisted", he said.
In relation to some of the concerns raised by other parties Maskey added: "I think that many of the concerns about this model are misplaced. This configuration reflects a far more balanced face of local government than many of the current councils particularly where minorities are being ignored and /or discriminated against. Sinn Féin want to see services delivered equally and equality in terms of inclusion within all the council positions so that all play their full civic role."