9 November 2006 Edition
Gunman targets youths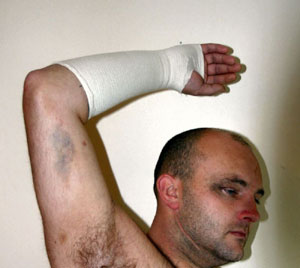 Several youths were lucky to escape with their lives after a lone loyalist gunman opened fire on them in Coleraine County Derry last Friday night 3 November.
After firing a shot at the youths who were standing in the Somerset Drive area of the North Derry town the attacker's gun jammed. When it wouldn't fire the gunman, believed to be connected to the UDA, fled.
Speaking to An Phoblacht Sinn Féin's Billy Leonard pointed out that this was the second time in as many years that loyalists gunmen have tried to kill Catholic youths in the Somerset Drive area.
Added Leonard, "People in the locality are very confident it was a loyalist attack. UDA activity in the Coleraine area has been greater than in many other areas".
Meanwhile Leonard has accused the PSNI of, "thuggery", after they assaulted a man in his 30s in Kilrea, County Derry.
Philip Dripps, suffered a broken arm and received other bruising after the PSNI broke into his house on October 31 to arrest him.
As they dragged Dripps from his home the PSNI kicked him and he was spitting blood. It was as he was taken from his home that the man, in his 30s had his arm broken.
Leonard also accused the PSNI of refusing to give the man inhalers as he is an asthma sufferer.
According to Leonard the man was later released without charge.