9 November 2006 Edition
Collusion Report fuels inquiry demand
BY LAURA FRIEL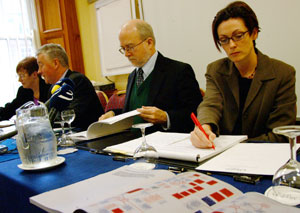 Damning picture of British collusion in loyalist murders
Sinn Féin has called for a full, independent inquiry after an international panel of legal experts highlighted 74 cases of British state collusion with unionist paramilitary murders.
The report shows the British Government knew of collusion between the RUC, British army and unionist death squads as far back as the early 1970s. It paints a damning picture in which RUC officers and British soldiers took part in murders or supplied vital help to unionist paramilitaries and subsequently covered up their crimes.
Sinn Féin Dáil Leader Caoimhghín Ó Caoláin TD has called on the Taoiseach Bertie Ahern to use his influence on the British government to push them to co-operate with a full-scale international inquiry into collusion, under United Nations guidelines and with full access to information in the hands of the British authorities.
Speaking in Leinster House on Tuesday Ó Caoláin said: "The Independent International Panel on Collusion in Sectarian Killings has examined murders - including the Dublin and Monaghan bombings - organised from the infamous Mitchell farm at Glenanne, County Armagh which was a loyalist base. It concludes that in 24 of the 25 cases they examined there is 'significant and credible evidence of involvement of police and military agents of the United Kingdom, both directly and in collusion with loyalist extremists'. They also found that 'at least some police superiors in Northern Ireland knew of an expressed approval of instances of this conduct, and that senior officials in London had information sufficient to put them on notice of the serious risk of this conduct'. This is the first truly international and impartial examination of collusion from a Human Rights law perspective."
Also on Tuesday Sinn Féin Newry/Armagh MP Conor Murphy said: "In 76 examined cases only two showed no evidence of collusion. The British government were complicit in the killing of citizens within their jurisdiction in the North of Ireland and the murder of citizens in the South including the Dublin/Monaghan bombings.
"The relatives of those killed have a right to know the full extent of British forces involvement."
Shocked
Launching the report in Belfast Douglas Cassel, a human rights professor from the American University of Notre Dame, said he had been shocked at the extent of state collusion in the killings the team had investigated.
"We found evidence of collusion with British security forces, primarily the RUC and UDR in 24 of the 25 cases we examined. In most cases the evidence is extremely strong. In some cases it would be sufficient enough to make a prime facia case. In other cases it is enough to prompt the British government to conduct a proper investigation", he said.
"Knowledge of this was brought to the senior level of British government that members of these security forces were involved in collusion and that weapons, ammunition and training that were intended for police and military functions were going to terrorist channels", said Cassel.
The international panel, which conducted its investigation over a two-year period, also included Susie Kemp, an international lawyer based in the Hague, Piers Pigou, an investigator for the South African Truth and Reconciliation Commission and US lawyers and academics Stephen Sawyer and Thomas Vega-Byrnes.
In a detailed 109-page report the international panel examined 25 cases of unionist paramilitary violence between 1972 and 1977 in which 76 people were killed. The group found in 24 cases involving 74 killings there was evidence of RUC and UDR collusion.
Compelling evidence
The investigation was carried out at the request of the Pat Finucane Centre and specifically targeted the activities of the unionist Glennane gang. Evidence by former RUC officer John Weir was underpinned by ballistic evidence. The report includes a chart that shows the same weaponry was used over and over again.
The investigators concluded there was "compelling evidence that officers of the British state, in particular RUC officers, UDR soldiers and their agents, were involved in sectarian murder of Catholics".
"There is credible evidence that their activities were known and supported, tacitly and in some cases explicitly, by some of their RUC and UDR superiors and to some extent by some British intelligence and army officers", said the report.
"The panel has also seen clear documentary evidence that senior officials of the British government were informed of facts that should have, and did, put them on notice of the risk of collusion between state security forces and loyalist paramilitaries in sectarian violence.
"The evidence that police and military officers of the state were involved in the murders and that some of their superiors knew this, but failed to take appropriate action, raises a further question", said the report.
"How high up the chain of command in the police, army and intelligence agencies of the British state and in the British government did specific knowledge and acquiescence in sectarian crimes go?"
In a detailed analysis of 25 incidents the report exposes systematic collusion and cover up involving British soldiers and RUC officers in 74 killings. Sometimes official state forces donned masks and carried out the killings themselves. At other times they simply passed the weaponry, know how and information onto surrogate unionist paramilitaries.
Cover-up
Then after the killings came the cover up. Cover up involved state forces covering up their own crimes and the crimes of others, hiding weaponry, failing to pursue investigations and refusing to prosecute despite overwhelming evidence.
In one case, Robin Jackson, a notorious unionist gunman, was identified by the widow of one of his victims but the charges against him were subsequently dropped by order of the DPP. Jackson was later exposed as a Special Branch agent.
The cases investigated included car bombings, grenade attacks and shootings including mass killings as in the Miami Showband attack and the Dublin/Monaghan bombings which killed 34 people in one day and injured many more.
The inquiry panel met PSNI Chief Constable Hugh Orde in 2004. Before being appointed head of the PSNI, Orde was in day-to-day charge of the British government's Stevens Inquiry into collusion. "We thought we received assurances of his co-operation", said Cassel, but "since then we have not received a single piece of paper".
Speaking at the launch of the report Pat Finucane's widow Geraldine said it was frightening to think that people in authority in London knew about collusion back in 1973.
"Im sure their skills were well honed by 1989 when they murdered my husband", she said.
Questions have subsequently been raised about Special Branch collusion with the Mount Vernon UVF of which the 'Mechanic' was a leading member and close friend to the former Mount Vernon UVF boss Mark Haddock. Haddock has also been exposed as a Special Branch agent.
Meanwhile questions are being asked about the current PSNI Chief Constable Hugh Orde's role as top detective during the Stevens inquiry into collusion after it was revealed that the English detectives had been told as far back as 1998 that Haddock was an agent.
Former RUC detectives Trevor McIlwrath and Johnston Brown told the inquiry team that Haddock had been allowed to get away with countless crimes. McIlwrath had informed the Steven's team that Haddock was a UVF boss who was involved in serious crime but had escaped prosecution because he worked for Special Branch.
"The Stevens investigators seemed amazed. They wouldn't believe me, so they called Jonty Brown up to the office and he confirmed what I was saying", said McIlwrath in the Sunday Life.
Haddock has subsequently been linked to a series of murders including Raymond McCord, who was beaten to death by a UVF gang in 1997.