9 November 2006 Edition
Review - Biography a virtual encyclopaedia on Connolly
BY Mícheál MacDonncha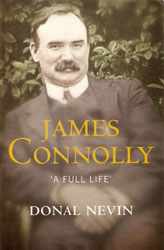 James Connolly
A Full Life
by Donal Nevin.
Published by Gill and Macmillan.
Price €16.99
Now available in paperback after its publication in hardback last year, this monumental book is not so much a biography of James Connolly as a virtual encyclopedia containing summaries of most of what Connolly himself wrote and much of what has been written about him. In my view it will not displace C. Desmond Greaves's Life and Times of James Connolly as the definitive biography but it is an indispensable book for anyone who wants to know about our most far-seeing revolutionist and our most important thinker.
Connolly has grown in stature and importance with the years that have passed since he was executed in Kilmainham Jail on 12 May 1916. The journey that led to the execution yard began in the Irish district of Edinburgh in poverty in 1868. The likes of Connolly were not supposed to become learned men. He was not supposed to educate himself, to challenge the working conditions he saw around him or to become a mind and a voice for revolution. But he was the most determined of people and when he found his voice it could not be silenced and British bullets did not destroy it. It speaks to us still.
Of all the Irish revolutionaries of the period 1912 to 1916 Connolly identified most clearly the true nature of British imperialism in Ireland. As a trade union organiser in Belfast he had seen at first hand how sectarianism was used by the rich and powerful to divide workers. He grappled with the monster of Orangeism and correctly predicted the "carnival of reaction" that would ensue if Partition was imposed. There was no stronger critic of so-called constitutional nationalism. He saw how its hypocritical leaders spoke of freedom but turned a blind eye to slum tenements and slavish working conditions.
As a true internationalist Connolly saw himself as part of a world-wide movement of working people preparing for the revolution to come. Like many socialists he had great hopes that on the outbreak of war between the imperialist powers in Europe the organised working class would refuse to fight and thus set the torch to a conflagration that would destroy imperialism and capitalism. He was bitterly disappointed when the leaders of the labour movements in the imperialist countries led workers into the rival armies to slaughter one another.
The importance of the Great War in transforming Irish politics and in leading directly to the Easter Rising is often underestimated. The demand for Irish independence had been whittled down by the Irish Parliamentary Party to the weakest form of Home Rule within the British Empire. Many Home rulers looked forward to sharing the spoils of Empire with England. To achieve a glorified County Council in College Green they acquiesced in the partition of the country. And worst of all, they induced tens of thousands of young Irishmen to join the British Army and to die in trenches in return for the promise of Home Rule. At the same time Unionist leader Edward Carson was urging his followers to join the British Army to prevent Home Rule.
Connolly did not flinch in the face of this monumental betrayal of the working class. He described it as it was and vowed to strike a blow for freedom before the war ended. Irish republicans can be proud that Connolly and Pearse led one of only two armed revolts against the imperialist war in Europe - a year and a half before the 1917 Revolution in Russia. Pearse described Connolly as "the guiding brain of our resistance". While the execution of Connolly and his 15 comrades after the Rising rekindled the flame of republicanism, the loss of such a leadership was catastrophic, not least the loss of Connolly himself.
As a socialist thinker and leader of international importance, Connolly shared the hopes and beliefs of his contemporaries. He believed that the uprising of the working class worldwide was imminent, that the wheels of progress could not be stopped by capitalism and imperialism. He underestimated the resilience of those forces and the lengths to which they would go - including world war - to protect their interests. Only at the end of his life did this reality become clear. He faced it and acted accordingly. The rest of the 20th century saw imperialism go even further, trying to roll back every victory for progress. It continues today with the occupation of Iraq a form of naked imperialism familiar to Connolly.
This book should not simply be read and left on a shelf. The challenge is to apply Connolly's principles to our own time. Sinn Féin is committed to achieving a Democratic Socialist Republic. We need to explain what our socialism will mean in the Ireland of the 21st century. We also need to have an internationalist outlook, looking beyond Britain and the United States. Our struggle cannot be divorced from the international struggle against imperialism in its new forms.
Connolly was consistent throughout his life in his belief that an independent Ireland was essential if socialism was to be achieved. And separation from England without social and economic justice would be a hollow victory. Those principles still guide us today. This latest major contribution to our knowledge of Connolly should spur us on to finish his work.