9 November 2006 Edition
Shell-to-Sea Protestors disrupt Dempsey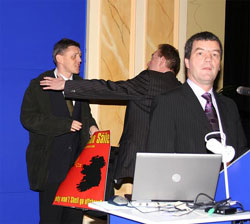 An initiative by the Shell to Sea campaign to break the ongoing stalemate by establishing a public Commission of Inquiry into 'the optimum development concept' for the controversial Corrib gas project has been dismissed by Minister Noel Dempsey as containing 'nothing new' and by Shell as 'unrealistic'.
According to the Shell to Sea proposal, details of which were unveiled at a press conference in Castlebar last Monday, a key criterion of the proposed independent commission would be 'community consent', as well as environmental, health, safety, local and regional benefits. It proposed that the commission be composed of members acceptable to all sides in the dispute, that it should hold public hearings and that it should make recommendations regarding the optimum development of the project.
Ten people protesting against Shell's Corrib project disrupted a speech by Natural Resources Minister Noel Dempsey in Dublin on Wednesday.
The protestors entered a €345 per head session at Dublin's Burlington Hotel where Dempsey was addressing representatives of petroleum companies.
Waving placards, one of demonstrators - Tadhg McGrath - even managed to get onto the stage where Dempsey was speaking before being escorted away by Gardaí.
McGrath told the assembled petroleum reps that if they did business on the giveaway terms offered by this government, they would be seeing more people like him. The head of Shell of Ireland was presently at the event.
Speaking afterwards McGrath said he wanted to show that many Irish people were very unhappy about the Government allowing multinational oil companies to exploit Ireland's resources and ride roughshod over concerns about the environment, health and safety.
Shell-to-Sea have planned a Day of action Friday 10 November to mark the 11th anniversary of the execution of Ken Saro-Wiwa and eight other Ogoni anti-Shell activists by the Nigerian state for campaigning against the devastation of the Niger Delta by oil companies, especially Shell. For further details of activities in your local area contact Shell to Sea at 0871323369.