9 November 2006 Edition
Shell to Sea - Minister rejects latest initiative to break impasse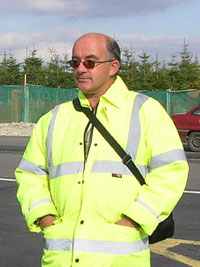 'We have to win'
Shell to Sea's initiative to break the impasse in the controversial Corrob gas project and this week's disruption of a speech by Minister Noel Dempsey in Dublin are the latest incidents in a political issue that will not go away. The project has galvanised and indeed radicalised many people in North Mayo and there is growing support for the Shell-to Sea campaign right across the country. Recently ELLA O'DWYER spoke to one local activist, Terence Conway.
Terence Conway and his parents before him come from Inver, 12 miles from Rossport, where he goes everyday to participate in the Shell to Sea campaign. He first became aware of Shell's intention to build a refinery in Rossport when he returned from the United States two years ago.
"I heard about the refinery when I came back but I didn't know much about it. I was hearing stories, good and bad and at the start I didn't know which side to take but I knew I had to jump in at some side. I made a few phone calls to government departments and spoke to Shell representatives and got a lot of fob-off answers. I was asking them about the refinery and about pollution. I was pretty ignorant about it all and I wanted to know.
"I couldn't get straight answers from anyone except the locals. They were the only people who didn't seem to be hiding anything and were willing to answer any questions I threw at them. In the end I had enough information. I learnt the percentages involved in terms of what would happen with money when the gas would be sold - who'd get money from it. One thing I knew about oil and gas, something I learnt years ago, was that it was going to be extremely valuable. I remember meeting someone who was in the business about 25 years ago and he was talking about the West Coast, that there was a lot of oil and gas there and that it was just a matter of time before it would be refined."
On many occasions Conway requested a meeting with Minister for Natural Resources Noel Dempsey but to no avail.
For Conway, as for so many others from the area, the campaign is a fulltime commitment.
"I get up every morning and drive to Bellanaboy. We might protest by walking up and down with the placards, or block trucks or whatever. On any one day we can, if we need to, call on about 300 people and there's always people there."
As to how much the issue was on local people's minds on a daily basis, he said: "I'm afraid it's practically taken over my conversation. I find it hard to talk about anything else.
"We have all age groups involved, old and young, but since the Gardaí started getting so aggressive we're reluctant to bring the children along. Today I saw cops hitting a woman of about 22 years of age. She had taken a photo and was walking back up the road when they came onto her very aggressively. I've heard of two other women being punched and another man was grabbed and kicked. They're doing everything to try to start a riot. Some of the cops that came in were disgusted with it. One cop just turned around and walked away. The cops would come in two lines. The line outside would start kicking. They grabbed one man, lifted him back up the road and started kicking him."
On accusations of intimidation on the part of the campaigners, in particular the claim that campaigners were behind a death threat phoned to Noel Dempsey's office, Conway says: "There's no need to issue death threats or anything like that. Such a phone call might have been made to his office but I question who made the call because it came at a very opportune time for Dempsey.
"This is not just a local issue. We've had groups coming here from all over the world, places as far off as South Africa. They implore us not to let the refinery go ahead. They say, 'If you care about the children, don't let it go ahead.' It's also an issue affecting the whole country. The campaign can't be lost. What's going on here is a robbery of billions of Euros. If it's allowed to go ahead the Irish people will be a laughing stock all over the world
"The extremes that the politicians are going to in order to make sure that the multinationals get the money make me think we're moving away from democracy, because our politicians are supposed to be there to look after the country and its resources. If you compare it to the Norwegian government - when oil companies started exploring there, the government called the companies into a conference to find out about the resources that were there. The government went ahead with the exploration but kept a tight control of the companies. The Norwegian government made it clear at the outset that the gas off the coast of Norway is the property of the people of Norway. As a result the country is very rich now, due largely to the way they controlled their resources."
Will the campaigners win?
"We have to win - we can't let them win - and I'm not talking about Shell. The big criminals in this are our own politicians."