9 November 2006 Edition
Loughinisland massacre families at Westminster
BY LAURA FRIEL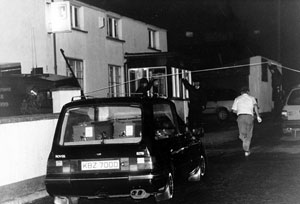 Relatives of those killed during A unionist paramilitary massacre in the village of Loughinisland in 1994 travelled to London last Tuesday to raise concerns about state collusion and the failure of the subsequent investigation with British MPs.
Six people died and five more were seriously injured when two UVF gunmen sprayed a Catholic owned bar with gunfire as patrons watched a World Cup soccer match between Ireland and Italy in a calculated act of sectarian mass murder.
Those who died and many of the injured suffered multiple gunshot wounds. Those killed were Adrian Rogan (34), Daniel McCreanor (59), Eamon Byrne (39), Patrick O Hare (35), Barney Green (87) and Malcolm Jenkinson (53)
Accompanied by Sinn Féin MLA Caitriona Ruane, the delegation met a cross party grouping of British politicians at Westminster. The grouping included the Conservative Shadow Secretary of State for the Six Counties, David Liddington, Labour MP Jeremy Corbyn, Lembit Opik from the Liberal Democrats and other members of the NI Select Committee.
The Loughinisland Justice Group was formed in 2006 following a campaign by the victims' families to secure a proper, full investigation into the killings. The families lodged an official complaint with the Ombudsman after it was revealed that known agents who were involved in the attack were protected and hidden.
The RUC knew within two months of the Loughinisland massacre that one of their agents had been involved but failed to arrest him. The agent codenamed the 'Mechanic' provided the getaway car, a red Triumph Acclaim, used in the attack. Despite known involvement in the Loughinisland massacre, the 'Mechanic' was allowed to continue as an agent for Special Branch.
Speaking from Westminster Caitríona Ruane said: "For 12 years the families of the six men killed by the UVF at Loughinisland have patiently waited for justice. As the years have gone on the families have began to raise serious questions about the murders and specifically the subsequent investigation into them.
"It has now emerged that:
A British Agent has admitted supplying the car used in murders;
The car used by the murderers to get away has subsequently been destroyed by the investigating team;
A hair follicle was found on one of the balaclavas - yet nobody has been charged;
At least one of the weapons used was imported from South Africa by British Agent Brian Nelson;
The PSNI have consistently refused to answer questions from the families preferring to hide behind the Official Secrets Act.
"Given the impact which the murders at Loughinisland had across Ireland and the determination of the families to see justice and truth delivered this is an issue which simply will not disappear for the British government."