9 November 2006 Edition
Planning abuse - Developers 'flouting law at will'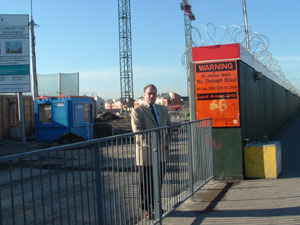 Local anger over Fatima Mansions redevelopment work
Residents of Fatima Mansions in Dublin's inner city have fought long and hard against problems such as drug dealing, anti-social behaviour and a poor physical environment which have afflicted the area. Redevelopment was heralded by the government, city council and the media as a model of success. However as ELLA O'DWYER reports, what has not been highlighted is recent local anger and protests around aspects of the development work including a lack of consultation and problems with planning regulation and enforcement.
Fatima Mansions was originally a Dublin Corporation flats complex consisting of 363 residential flats located in the in Dublin's South West Inner City, close to Rialto and Dolphins Barn.
The flats, built in the late 1940s and early 1950s were relatively successful for the first 20 years. In the 1970's and 1980s the flats complex began go decline. The roots of the problem were drugs, increased unemployment and relatively low levels of education. In the late 1970s Dublin Corporation together with the community set about attempting to reverse this decline and the refurbishment project was set in motion which was completed in 1991.This refurbishment however amounted to no more than a face lift.
In 1998 community group Fatima United drafted a policy document outlining a regeneration programme for the flats and in 2002 the building process began. The flats were demolished and replaced by high quality housing. The regeneration has been widely welcomed though there are major concerns regarding planning violations and specifically a lack of enforcement in terms of planning regulations.
Local Sinn Féin Councillor Críona Ní Dhálaigh explains the current problems: "What people are objecting to is the abuse of planning regulations on the part of the developer P. Eliot and Sons. The redevelopment project in itself was fine. It involved the construction of social and affordable housing, apartments and amenities such as a swimming pool, leisure centre, playgrounds a crèche and retail units. The problem has to do with the abuse of planning permission. The residents living in the houses around Fatima are living on a relative building site. There are regulations, which the developer should be adhering to in relation to issues like noise pollution, and particularly in terms of their disregard for agreed working hours"
Numerous complaints have been made to Ní Dhálaigh and Sinn Féin TD for Dublin South Central, Aengus Ó Snodaigh about a range of problems associated with the redevelopment work. These include noise, damage to property, dirt, working hours, health and safety issues and dogs barking late at night and early in the morning due to disturbance caused by trucks moving outside normal working hours.
Local residents and Sinn Féin representatives say that the initial agreement was that no construction would take place before eight in the morning or after six in the evening. As it stands the trucks are coming in anytime from around 6.30am and leaving late in the evening.
"Developers seem to have a free reign once they get planning permission and they flout the laws at will. Only 15% of the Planning Budget is spent on planning enforcement and the rest on the pre-planning stage - largely on consultation", said Ní Dálaigh.
"Dublin City Council have initiated less than 100 legal actions annually with regards to planning violations despite the huge increase in planning enforcement complaints made. This is just not good enough. The quality of life of the residents in some areas is being affected on a daily basis because of the blatant disregard some developers have for planning. There are only two planning enforcement officers for the area and they have no teeth and this is despite the vast amount of regeneration going on in Dublin South Central", she says.
"There is no consideration given to people living in houses surrounding sites undergoing development. A high degree of dilapidation occurs around sites where such development is going on. People are waiting for ages on the results of a survey that was done on dilapidation incurred during the rebuilding of Fatima Mansions.
"Regeneration has a lot of aspects not just physical. It's social, on the wider scale and affects most aspects of the residents' lives", she says.
"A road was also closed off without due notification. The developers are just not following due process and the residents have been driven to the last option - protest and these protests involve delaying trucks moving in and out of the development. Delay costs the developers money and that's where it hurts them most. Hit them in the pockets. There have been a number of protests to date and there will more."
"Outside of housing queries I get more calls about planning matters than any other issue. It affects the quality of life on a daily basis", says Ní Dhálaigh.
Local resident Damien Farrell confirms Ní Dhalaigh's comments: "The Fatima regeneration is a welcome development. Phase One involved the construction of social and some affordable housing and now it's at Phase Two which involves the completion of almost 400 apartments, a crèche, a gymnasium, commercial units and a swimming pool. But the conditions regarding planning are being violated in particular with regard to working hours.
"There is an established structure called the Demolition and Construction Group, where these issues are meant to be dealt with. We suspended our engagement with that group on Friday 13 October as a consequence of the developer continually breaching working hours. The group has representatives from the community, the developer, the Council. The site manager is also represented. But the group hasn't worked. We have our own committee, a residents' group. We've exhausted all channels and structures and they haven't worked. We've been driven to protest out of desperation.
The regeneration is funded by a Public, Private Partnership of which Dublin City Council is part. For that reason the Council isn't neutral and they won't prosecute themselves."
Críona Ní Dhalaigh is bringing an emergency motion to Dublin City Council on the issue of enforcement of planning regulations.