2 November 2006 Edition
St Teresa's honour Joe McDonnell and Kieran Doherty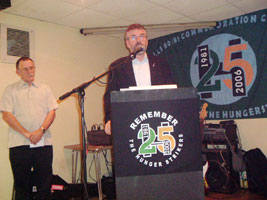 Hunger Strikers Joe McDonnell and Kieran Doherty were remembered in Belfast on Friday night 27 October in St Teresa's GAA Club in Belfast.
In a moving address to a packed audience in St Teresa's, for whom both hunger strikers played, Sinn Féin President and West Belfast MP Gerry Adams spoke movingly of 1981.
Mindful that members of both Joe and Kieran's families, including Kieran's mother and father Margaret and Alfie and Joe's widow Goretti, were in the audience Adams spoke of the courage and determination of the men on the Hunger Strike and the courage and strength of their families in the way they supported the men.
Sinn Féin Dublin City Councillor Dessie Ellis, who himself undertook a hunger strike in Portlaoise Prison in the late 1980s as he fought moves by the Dublin government to extradite him to Britain, chaired proceedings.
Ellis is the Sinn Féin candidate for Dublin North West in next year's Leinster House elections. The event saw both families presented with bodhráns adorned with a picture of each Hunger Striker and the St Teresa's club crest.