2 November 2006 Edition
Concert Big name artists to perform at Dublin's Ambassador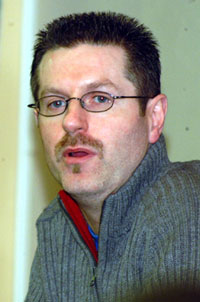 Major concert to mark Hunger Strike 25th Anniversary
A concert themed 'A Celebration of Remembrance' will take place on 2 December in the Ambassador Theatre Dublin in remembrance of the 1981 Hunger Strikers. Big name artists such Karen Casey and Kila will perform at the event and a representative of the Cuban government will attend.
The families of the Hunger Strikers have been invited and a huge turn out is expected. Chairperson of the National Hunger Strike Committee Flash McVeigh has described the concert as "the culmination of a big year for republicans - an event which should take us into the coming year on a high.
"This has been an important year of struggle, a big year worthy of a big finale. We are heading into another important year of struggle and the memory of the Hunger Strikers can strengthen us on our way forward.
"The rally on 13 August in Belfast was the highlight of the year. After the rally we took the family members to dinner. There were about 150 of them. They expressed their delight at the year's events and the conviction that their loved ones had not been forgotten in any way.
"The families will be in attendance again at the concert in Dublin and there will also be a presentation to a representative of the Cuban government. This year also two former Hunger Strikers are visiting Cuba where there is a memorial to the Hunger Strikers.
"The hunger strike exhibition has been taken to schools, universities and community centres the length and breath of Ireland, from the smallest villages to the cities and at each venue there was a great turn out and a huge interest especially amongst young people.
"People have travelled also to countries like France, the United States and Australia to talk about the Hunger Strikes and about what happened in Armagh jail at the time. People want to learn the history of the prison struggle.
"It's about celebrating the legacy of the Hunger Strikers. Very few countries in the world have such iconic figures as the Hunger Strikers to celebrate. The 25th anniversary was a big benchmark for republicans and the interest demonstrated is a measure of the huge impact the sacrifices of these men had on the Irish people and people all over the world. The anniversary has been a time which reminded us all of what the struggle is about."
The first edition of the soon-to-be relaunched republican magazine Iris will also be available at the concert. Iris is being relaunched 25 years after it first appeared as in magazine format in the historic year of 1981. Iris marks its return with a special edition dedicated to the memory of the sacrifice of the Hunger Strikers. It documents the story of the Hunger Strike and the events surrounding it and includes interviews with many who were directly involved.
Tickets for the 2 December concert in the Ambassador theatre Dublin are €20 and are available from ticket master.