2 November 2006 Edition
Magee Protest at British army presence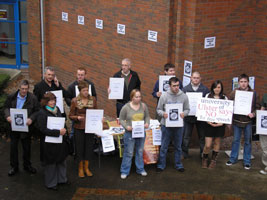 Ógra Shinn Féin at Magee College in Derry protested the presence of the British Army and Royal Navy at the Employment fair in the campus On Tuesday 24 October.
Magee Ógra were joined by a number of local Sinn Féin activists and elected representatives including former Mayor of Derry Councillor Lynn Fleming.
Ógra condemned the University of Ulster for inviting the British war machine to attend the Employment Fair, while banning political societies from handing out literature to students at the Freshers Fair.
Magee Ógra Shinn Féin spokesperson Meabh Mackel said: "I am astounded at the hypocrisy of the University who claim that they wish to create a neutral environment yet invite the British Army, who have carried out atrocities such as Bloody Sunday within this city, into the Magee campus while a constituted society within the university is banned from taking part in the freshers' fare.
She said the protest highlighted the ongoing censorship of political societies by the university and received very supportive feedback from students. She said she believed enough awareness had been raised amongst the student population to overturn the biased policy.
"We will also be presenting a petition to the university with hundreds of students' signatures showing their opposition to the University's stance", she said.