2 November 2006 Edition
Adequate income for all, not re-election, should be Budget objective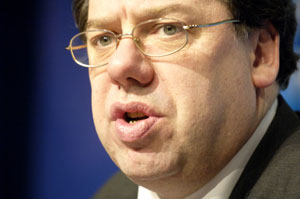 BY 
CAOILFHIONN 
Ní DHONNABHÁIN
Budget 2007 is just over a month away. The PDs are looking for "a substantial middle-class tax cut". Fianna Fáil backbenchers are no doubt at this very moment salivating at the prospect of buying the next election in a 'give-away' budget.
Sinn Féin's Finance spokesperson Caoimhghín Ó Caoláin TD has rightly demanded that 26 County Minister for Finance Brian Cowen put tackling the plight of low-income households at the budget's core. Ó Caoláin summed up Sinn Féin's priorities for Budget 2007 as helping the less well-off cope with rising costs, ensuring access to high-quality public services and amenities for all, strengthening social protections, eliminating advantages in the tax system for the better-off and making that system more redistributive and progressive. Budget 2007 needs to be underpinned by the objective of ensu tax credits and tax bands over tax cuts. Unlike tax cuts, when personal tax credits are increased, everyone with an income in excess of the amount of that credit would benefit by that amount.
If the Government opts for a pre-election 'give-away' budget designed to buy votes rather than redress social inequalities, low-income families will be left behind once again. This cannot be allowed to happen.
ring an adequate standard of living for all.
So what would Cowen need to do in order to deliver on the Sinn Féin priorities as set out by Ó Caoláin? For a start, present rates of social welfare are not adequate to keep people out of poverty. This was demonstrated in a report by the CSO entitled Measuring Ireland's Progress, 2005 published earlier this year. It pointed out that in 2004, the proportion of people in the 26 Counties at risk of poverty, after pensions and social transfer payments were taken into account, was 21%. It is time to go beyond the target of 30% of Gross Average Industrial earnings by 2007 for the lowest rate of social welfare, set in the National Anti-Poverty Strategy (NAPS) review of 2002. It is time now to set a new, longer term benchmark against which the evolution of social welfare rates can be measured. The wealth exists to deliver on this.
The low-paid, let down so badly by the paltry increases under the new s