2 November 2006 Edition
Housing Sinn Féin seeks to reverse dilution of housing provision obligations
BY Aran Foley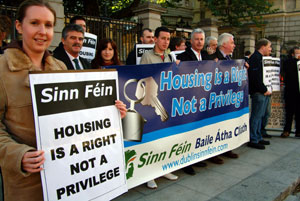 Bill aims to tackle chronic housing crisis
This week saw Sinn Féin TDs introduce a Bill in Leinster House aimed at tackling the chronic housing crisis in the 26 Counties. The Bill restores provisions in the original Planing and Development Act 2000 obliging property developers to provide 20% social and affordable housing in all housing developments.
In 2002, under pressure from property developers, Minister Martin Cullen diluted these provisions by introducing an amendment to Part five of the act whereby developers could pay the local authorities to escape their obligation to provide social and affordable housing.
Closing off the Part V loophole and a housing policy that has at its core an agenda of social inclusivity are at the heart of Sinn Féin's proposals. The party advocates housing based on need rather than the greed of developers and speculators.
Last weekend a Sinn Féin policy convention on housing heard that many houses bought for speculative purposes have simply been left idle. This in the context of rising social and affordable needs against a reduced output in this area. The conference also heard that upwards of 400 million Euro is spent annually on rent assistance which goes into the pocket of private landlords. Sinn Féin argue that this money would be far more effectively used in the provision of social housing.
The moving of this bill and a Sinn Féin housing policy conference last weekend represents the opening of another front in Sinn Féin's battle for social inclusivity.
Seán Crowe TD opened the Dáil debate on the Sinn Féin Bill on Wednesday evening when he outlined the aims of the bill and the reasons behind it. He said Sinn Féin was tabling the Bill:
In order to make some attempt to rectify the problems associated with the Planning and Development (Amendment) Act of 2002 in order to provide more of the badly needed social housing
to aim to change the fact that where social housing is provided - it is ghettoised and stigmatised from physical segregation as a result of poor policy practices
and finally to change housing policy so that it becomes based on "need" rather than the "greed" of developers and those with vested interests in keeping the current housing system in its inadequate, stagnant state.
Crowe criticised the government's capitulation in the face of political pressure from developers which saw the original Act amended in 2002. He said that while a 20% target for social and affordable housing was not enough it was a start and that where possible Sinn Féin seeks higher targets. He pointed out how Sinn Féin Dublin City Councillor Tony Smithers had successfully argued for a 30% social and affordable quota for the Cherry Orchard development in Ballyfermot.
Of the 81,000 housing units built last year a pitiful 830 were social and affordable units. Crowe said this contradicted the Government's commitment under the National Development Plan 2000-2006 to the provision of 35,000 social and affordable housing. However up until 2005 only 20,600 had been provided. This deficit could be made up by amending Part V of the Act.
Changes to the Act in 2002 moved the 26 Counties back towards its traditional policy of ghettoisation. The policy of creating "stigmatised pockets of exclusion and social deprivation" had failed said the TD. A policy of mixed tenure should guide all developments in the future.
Current housing policy was crafted by the lobbyists of developers and speculators, Crowe said. The government had all too readily accepted their argument that the 20% quota would reduce overall housing output. Had they forgotten that the bottom line with developers was to make money Crowe asked, adding that there was no way the 20% quota would deter developers from building in the face of rising demand. "Sinn Fein is committed to bringing about a progressive improvement in living conditions for lower income people, and to allow for tenure of choice. Sinn Féin aims to end the housing crisis, eliminate homelessness and ensure that adequate and appropriate housing is available and accessible to every person on the island without exception", Crowe said.
As we go to press Sinn Féin Dáil group leader Caoimhghín Ó Caoláin TD is due to address the Dáil on the issue. On Thursday both Martin Ferris TD and Arthur Morgan TD will speak on the issue, after which there will be a vote on the Sinn Féin Bill.