2 November 2006 Edition
Suicide crisis - British Government launches prevention strategy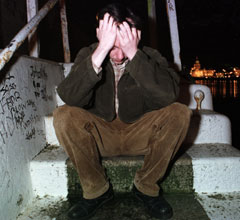 Suicide the biggest killer of young people
"Suicide across the island has become the biggest killer of our young people. In the last decade, the incidence of suicide in Ireland has increased by more than 25%. In 2003-4 there were 577 people who died through suicide. Figures recently compiled indicate that last year, the total number of people who died as a result of suicide was 645."
These are the words of the Sinn Féin President Gerry Adams, who went on to point out that there were 17 suicides a month in the Six Counties last year and that this represented a rise of 40% on the previous year. Adams was speaking in advance of a major announcement by the British Government on tackling suicide.
That announcement, made on Monday, 30 October 2006 in the Farset Centre in Belfast, saw the NIO Health Minister Paul Goggins launch the Suicide Prevention Strategy and promise £600,000 for prevention schemes and to fund a new 24-hour helpline for people contemplating suicide.
The strategy contains an action plan with the overall aim of reducing the North's suicide rate. It also includes an implementation body and a families' forum, which is intended to give families a voice in the implementation of the action plan.
While welcoming Monday's announcement, Adams pointed out that North and West Belfast were particularly affected by suicide, saying that the rate in these constituencies is twice that of any other part of the Six Counties. He warned that if current trends continue, the number of suicide deaths in North and West Belfast will reach the frightening number of 300 over the next six months.
Meanwhile, speaking at the launch of the West Belfast Suicide Awareness Support Group's ribbon appeal on Wednesday, 25 October, Adams praised the "fortitude, spirit and commitment of the families who have been the driving force in moving the British Government to address this issue, to develop new strategies and allocate resources.
"Their tireless work means that those at risk have been given new hope for the future."
New suicide prevention helpline
0808 808 8000