2 November 2006 Edition
Adams tells Brown to address legacy of colonialism and partition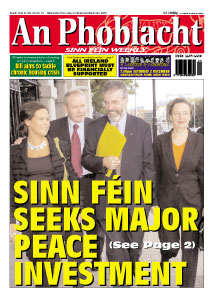 This Wednesday saw a meeting between British Chancellor of the Exchequer Gordon Brown and representatives of all the political parties in the Six Counties in relation to a peace dividend.
The meeting followed last week's announcement from the Irish government setting out key elements of its contribution to a peace dividend.
Speaking during the all-party meeting Sinn Féin President Gerry Adams said that building a strong economy was an important task facing any incoming Six County Executive and all-Ireland Ministerial council. He said the primary political focus must be on bringing about a situation where Ian Paisley and Martin McGuinness are equal partners in government.
"Their responsibility with their Executive colleagues will be to propose solutions to the crisis in the health service, in education, in our rural communities, in job creation and transport. They have to find solutions to the problems confronting our young people, our elderly and disabled", said Adams.
Adams said that Sinn Féin was calling for an all-Ireland economic development strategy, with "North and South working together, sharing resources, experience and the benefits of economic development and expansion".
The Preparation for Government Committee and its Economic Sub-group had held valuable discussions on a peace dividend and other measures to transform the economy. Such a package was essential to buld a modern economy with a highly skilled workforce, strong public services and a vastly improved road, air and rail network. It was also needed to redress decades of under investment West of the Bann.
To help deliver these basic requirements Sinn Féin is calling for a £10 billion peace dividend from the British exchequer, to be supported in a substantial way by the Irish government.
"Our five parties have different opinions and analysis on many aspects of the situation in Ireland and the relationship between our people and the people of these islands. But today we are united in meeting the challenge to build a strong economy. And to achieve that we need an integrated, strategic and democratic approach", Adams said.
He went on to say that the all-Ireland economic development strategy Sinn Féin is campaigning for was about "investing in the long term economic transformation of the North and border counties and developing a joined-up all-Ireland economic approach which can significantly improve the quality of life of every citizen".
Gerry Adams said Sinn Féin was seeking:
Investment in key infrastructural projects such as the Dublin - Derry- Letterkenny road which would be key to development in the North West and in public transport.
The creation of a single all-Ireland investment agency which would be key to ensuring balanced economic growth across the island.
Fiscal flexibility for the Assembly and Executive including tax gathering powers.
We also need a range of measures to aid business development including greater support for business start ups, incentives for Research & Development to encourage the growth of high skilled jobs and the creation of Enterprise Zones
The reversal of cutbacks in education and library boards and in health service provision.
Deferment of the water reform legislation
Harmonising taxes and business regulations across the island.
A Small Business Task Force to help develop small and medium size businesses and look at opportunities for those affected by the collapse over the last ten years in the manufacturing, agriculture and textile industries.
Investment in education and training to re-skill those who have lost their jobs in sectors which have suffered substantial job losses, to encourage graduates to remain in Ireland and encourage entrepreneurship.
Encourage the potential for Irish language based regeneration.
In the event of the sale of under utilised public land or buildings all monies raised should be ring-fenced for use by the Executive and not go to the British Treasury.
Adams said the cost of rebuilding infrastructure, particularly in water and roads, to a standard required for a modern economy, could not be met through the current budget allocation. Hecsaid further penalties on the tax payer to meet this cost either through water charges or rates was not sustainable.
"The republican view is that the current deplorable state or our infrastructure and economy is a result of the policies of successive British governments."
Adams said the legacy of colonialism, partition and being at the edge of the British exchequer puts the North at an economic disadvantage and that the British government had a responsibility to redress this.
Last week the Irish government set out elements that will make up its contribution to a peace dividend. He was now asking the British Chancellor to be generous in respect of his government's responsibilities.