5 October 2006 Edition
Fógraí bháis - Michael Ferguson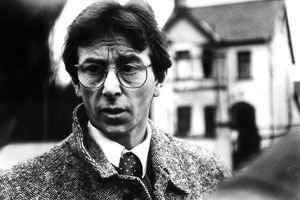 Sinn Féin MLA Michael Ferguson who died suddenly last week was buried in Milltown Cemetery, Belfast on Thursday, 28 September. There was a large attendance at the funeral, including many members of the Sinn Féin leadership, including party President Gerry Adams.
The graveside oration was delivered by Michael's long-time friend and comrade, Sinn Féin North Belfast MLA Gerry Kelly. Below we carry an edited version of his address.
Micahel Ferguson was the eldest child in a large family. Always the organiser, his loyalty and love of his family were very obvious.
His brother Hugh was killed in February 1975, close to the family home and when his body was removed to St John's Chapel, Michael went missing overnight to the family's distress. However he arrived home the next morning explaining he had spent the night in St John's Chapel. He couldn't bear to leave Hugh lying alone overnight.
Michael was sentenced to 14 years in 1975. But there is a silver lining in every cloud because a young left wing activist living in Leicester wrote to him as a republican POW. Her name was Louise Crane. After he tortured her to send him political books, which as a young unemployed woman she couldn't afford -- I understand she fulfilled his wish by liberating them rather than buying them. It was the start of a 30-year loving relationship and a long journey of two political activists in our struggle.
There are many words to describe Michael. He was a soldier, a POW, political activist, community worker, councillor, MLA and above all a tireless worker. He was intelligent, confident, brave and generous. But perhaps what set him out amongst the other activists was his energy. He was driven and had the ability to inspire and spur people into action around him. He was a human dynamo who loved to serve the community.
Not long after his release in 1983 he worked with Joe Lenegahan to develop a respite scheme for people with disabled children in lower Lenadoon. Around the same time anti-social elements were attacking the scheme building and Michael was complaining to Sinn Féin. Big mistake! They knew talent when they saw it and Michael was press ganged into Sinn Féin and what a change that made for Sinn Féin and the community.
As if he wasn't busy enough Michael went off to Queens University and earned an honours degree. Queens was not too hospitable to republicans. But he did meet other republicans there like Barry McElduff and Maireád Farrell. When Maireáid was killed in Gibralter and Queens refused to extend the normal courtesies afforded to students when they died, Michael and Barry took over the chancellor's office to protest the discrimination.
Michael was an imaginative and innovative activist who always looked to direct action. There really was no job too big or too small for him. When he and Louise moved to Poleglass, Michael's work in the community began in earnest.
A classic example of an estate built for social control, Michael organised an escape. During their first summer there, Michael and Louise borrowed a bus from Queens University and each and every day took kids from a different cul-de-sac away on a daytrip to the seaside.
He had talent for raising the profile of every issue he took on. His education remit was raised to a new level with his hard work and hard sell approach. Likewise with his various campaigns on housing, traffic calming, youth work and disability.
Over the course of this summer he revelled in the cut and thrust of debate with the other parties in the Preparation for Government Committee.
All I can really give here is a thumb sketch of Michael's contribution to the struggle. If I was to say he was irreplaceable, Michael would have been the first to correct me. However, his standards, his enthusiasm, his positive energy, even in the face of cancer will certainly be a hard act to follow. He did not leave this world without inspiring others to follow through on his work.
We are all shocked by the untimely death of Michael. Our generation, Michaels generation have seen many friends die through the conflict. Michael survived the gun battles, interrogation centres, the cages and the H-Blocks to die quietly in his sleep.
Perhaps the deep shock and disbelief is because of the quiet passing. Since there is no words of comfort I simply make the observation that michael squeezed two lifetimes into his short life -- an ordinary man who lived in extraordinary times and rose to that challenge.