5 October 2006 Edition
The Matt Treacy Column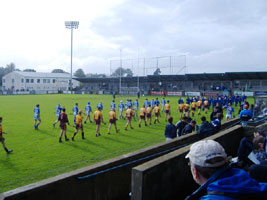 More Heartbreak for Ballyboden
While the glamour of the All Irelands is fading in the Autumnal mists, for many GAA people this is the most exciting part of the year as county championships come to a conclusion and we await the start of the provincial and national club championships. While playing or spectating in the mud and rain and wind and sometimes sleet and snow can either be a pleasure or a torment, depending on one's temperament, there is a special feeling of satisfaction in the knowledge that by enduring this we are earning the right to enjoy the balmy Summer days.
Mind you, so far we have been given a special dispensation and apart from the odd torrential downpour that threatened to derail a few matches last weekend, it might still be late Spring or early Summer. But rest assured fellow masochists, the days of frostbite and pneumonia will be with us soon.
Speaking of masochists, Ballyboden St. Endas are building the kind of reputation in Dublin hurling that Mayo enjoy in football. Last Sunday was their third time to fall at the senior final hurdle since 2001 and they have been contenders for a good number of years now without success.
Their conquerors Craobh Chiaráin are no strangers to disappointment themselves and endured long years of heartbreak between their first county in 1971 and their second in 1998. Since then they have added a further three, confirming their status as the pre-eminent Dublin club of the new millennium.
This columnist was among those who fulminated last year on the continued presence in the Dublin championship of University College Dublin which was able to field a team full of non-Dublin inter-county players including many who had All Ireland medals at minor and under 21. It was threatening to make a travesty of the club championship and UCD reacted by voluntarily withdrawing this year, albeit not without some suggestive hints from the Dublin clubs themselves.
UCD's departure has been vindicated not least by the fact that the attendance at this year's final was four or five times that of last year when UCD beat Vincents. It was also the best county final for a long time and had the crowd on the edge of their seats right until the final whistle.
Both teams were liberally laced with former and current Dublin county players including Conal Keaney of Ballyboden who gave up his place on the senior hurling team to concentrate on football. Keaney took a long distance free that led to Boden's second goal from Dublin goalkeeper Gary Maguire who plays at full forward for his club, but otherwise failed to get the better of either of Craobh's wing half forwards.
The first half was tight enough with both defences prepared to concede frees rather than allow the inside forwards any chance. This laid the basis for a battle of nerves between Dublin sharpshooters David Curtin of Ballyboden and Alan McCrabbe of Ciaráns who matched one another in frees. Curtin ended the game with six points from frees while McCrabbe's tally from placed balls was 1 - 6. The crucial break of the half came after eight minutes when a Ger Ennis shot came back off the Boden crossbar into the hand of Stephen McDonnell who made no mistake.
Craobh were four points clear at the break and kept their noses in front for most of the second half despite sustained pressure from Ballyboden that failed to yield much return. Then with just over 10 minutes remaining midfielder Dave Sweeney managed to scramble the ball home for a Boden goal which he followed a minute later with a superb sideline cut to level the game.
Ballyboden went ahead two minutes later when a long range free from Keaney was knocked to the net by Maguire. At that stage the southsiders were in full flight and their followers growing in confidence that the long famine was at an end. However, Craobh have proven themselves to be tough fighters and had wiped out the difference when a McCrabbe free managed to elude everyone in the Boden square to find the net.
McCrabbe had another free to put them back in front and this was extended with the best score of the day, a Stephen O'Boyle point from out near the sideline. Curtin responded with a free to narrow the gap again to one but the last score of the game was another McCrabbe point from a free to leave Ciarans two clear at the end of time.
Strangely for a club that was in pursuit of its first title, Ballyboden failed to win the sympathy of most of the, mainly northside, crowd who can be quite parochial about these matters even though Vincents, who had earlier won the Junior title, and others would be their bitter rivals on the pitch. God help us if the GAA ever do decide to split the city on north/south lines. It will make the rivalry between Boca Juniors and River Plate of Buenos Aires seem like a meeting of the Pat Boone Appreciation Society.
Ciarans now go on to represent Dublin in the Leinster club championship with a quarter final in Parnell against the winners of Carlow, still at the semi-final stage, and the winners of that to play either Coolderry or Birr with home advantage to the Dublin or Carlow side.
Finally, and just to put the cap on a bad weekend for Boden, Erin's Isle juniors beat them on Sunday morning. Modesty forbids the author describing his role as an impact sub although Ciara claims that they only put me on to give the other teams a chance. She is probably right. Ballyboden did, however, win the county senior camogie final against Vincents. Thus ends this update on the GAA in Dublin. Stay tuned.