5 October 2006 Edition
Memories of Michael Ferguson
BY JIM GIBNEY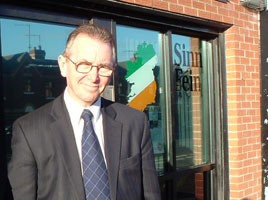 Republicans are no strangers to death; to losing people in the most violent of circumstances. For nearly three decades they walked behind the coffins of children, of adults, of fathers, mothers, brothers, sisters, of friends and comrades. They were toughened by war. They dealt with unexpected and sudden death and absorbed it.
But there is something altogether different when dealing with the sudden death of a loved one from natural causes. Or at least that is what was going through my head as I walked behind Michael Ferguson's coffin on the way to Milltown cemetery.
The mood among the huge crowd at the funeral was mixed - shock and sadness, fear uncertainty and disbelief. Disbelief that Michael survived the war years, imprisonment, loyalists, harassment, only to be cheated of life at a point where as one mourner put it, 'he had done so much and had lots more to offer.'
The presence at the funeral of many of Sinn Féin's national leadership was itself an affirmation of the regard there was for Michael. The large turnout was an act of solidarity with his partner Louise and family; an opportunity for his constituents to publicly say farewell and thanks.
Mingling with the mourners brought back memories of the funerals of republicans, Pat 'Beag' McGeown and Brian Campbell who also died suddenly and of natural causes.
Michael's sudden death at a relatively young age left his family, friends and comrades devastated, bewildered and confused. The fact that he had cancer did not fully explain his death. Indeed some weeks prior to his death Michael confidently told me that his operation was a success and that he would beat the illness.
Mourners tried to rationalise how Michael, who Gerry Kelly in his graveside oration correctly described, as a human 'dynamo' could no longer be amongst us. But on these occasions when life becomes death so suddenly and irrationally human beings quickly leave the inexplicable and move on to discuss those matters over which they have some command.
And that is what happened as we journeyed with Michael to his final place of rest. Michael was known for his irrepressible energy, firing in so many different directions at the same time, having two or three conversations simultaneously. This side of Michael was well captured in a remark from the officiating priest: 'We do not lie down easy, we will not be still.'
Dedication to people
Among the mourners the most common expression was about his dedication to the people who elected him. For eighteen years the people of Twinbrook and Poleglass returned him to represent them on Lisburn council and in recent times he was elected to the Assembly for West Belfast.
Barry Mc Elduff MLA for West Tyrone described him as an 'example of best practice'.
They knew each other from their days at Queen's University in the mid '80s. Barry recalled the occasion when they took over the Vice Chancellor's office when he refused to lower the university's flag when Mairéad Farrell, a student there, was shot dead. This was normal protocol when a student died. Michael and Barry lowered the flag in tribute to Mairéad.
In the midst of that tragedy they had a bit of banter and began awarding each other honorary degrees from the Chancellor's office. Over the years Michael and Barry had a healthy rivalry over who out pointed who in media appearances.
Michael had a special interest in highlighting disability issues. He had a keen interest in helping and promoting autism and at the last gathering of Sinn Féin's MLA team at Stormont Michael brought along a person with learning disabilities to attend the meeting.
Stories about Michael were on everyone's lips and all of them had a similar theme: helping others. He helped me get the flat I now live in and did so on the one condition that I buy it. Reluctant to do so he pushed me until I agreed.
But the one story which sums up Michael's commitment to people was him helping a cancer patient in the next bed to him. While both were receiving chemotherapy, Michael on his laptop, was taking down details to help the man with a complaint.
Wherever he went he created a buzz said one mourner. That buzz has now gone. In its place is Michael's legacy. That legacy will help his family come to terms with their loss in time.
It will also help Sinn Féin come to terms with its loss.