5 October 2006 Edition
End of Hunger Strike marked by Long Kesh rally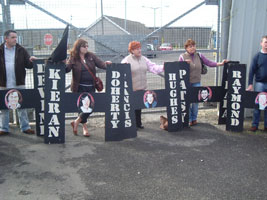 Up to 100 republicans gathered for a rally at the gates of Long Kesh on Tuesday, 3 October to mark the 25th anniversary of the end of the 1981 H-Block Hunger Strike.
Among the group present outside the disused prison were former Hunger Strikers Mary Doyle, John Pickering, Jackie McMullan and Gerard Hodgens.
Another former Hunger Striker, Pat Sheehan read the statement released by the H Block prisoners announcing the formal end of the prison fast that saw ten men die and which lasted almost eight months from 1 March when Bobby Sands embarked on his hunger strike.
The main speaker of the day was Jennifer McCann, herself a former POW and friend of Bobby.
In her address McCann reflected on the highs and lows of the republican struggle since 1981 and said that republicanism was stronger now than it had been for decades.
Speaking of her friendship with Bobby Sands and of her friendship with Mairéad Farrel,l McCann said that sometimes, when we feel we are burnt out and need a break we should remind ourselves of people like Bobby and Mairéad.
Mairéad Farrell was OC of the women republican POWs in Armagh Jail and along with Mary Doyle and Mairéad Nugent, took part in the 1980 hunger strike. She was subsequently executed by the British army on Gibraltar in 1988.
Speaking to An Phoblacht after the vigil John Pickering spoke of the mood in Long Kesh among the POWs after the hunger strike ended. He said that although there was a sense of defeat, the prisoners were never demoralised.
"We reflected on where we were at the end of the Hunger Strike. We thought about it all and came up with strategies that eventually ensured that we fulfilled all our demands. That is what we need to keep doing in the present political climate and we'll come up with the strategies that will take the struggle forward".