5 October 2006 Edition
The Mary Nelis Column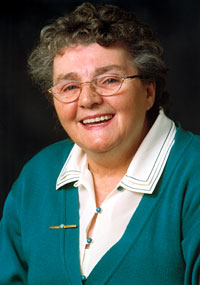 UDA's pay-off money
You wonder how the families of Daniel McColgan, Gavin Brett and Gerard Lawlor and God knows how many other victims, must have felt as they listened to the demand by the 'Southeast Antrim Brigade' of the UDA for a payment of £ 8.5 million, in return for not murdering any more Catholics.
That's effectively what this sectarian murder machine really meant when they stated they wanted to metamorphise into a peaceful community group. They were putting it up to the British Government - pay up for we have the dirt on your role in all this.
How come an organisation that has not decommissioned a single bullet, that has been at the centre of vicious sectarian attacks on the Catholic community, and has been linked to murder, beatings, extortion, and drugs, has the audacity to make such a demand?
Apart from a string of sectarian assassinations in North Belfast and Antrim, the Southeast Antrim brigade has also been at the centre of a long running feud involving its own members - Johnny Adair, the late John Gregg and the Shoukris to name but a few. Adair, his family and associates, fled the country under threat of death. At least ten people died as a result of the UDA bloodletting.
The Ulster Political Research Group - a combination of paramilitaries, pastors, and politicians, was set up in 2003, to advise the UDA. Their spokesman, Frankie Gallagher, called on the British Government to launch a formal review of the Good Friday Agreement claiming that it was not 'benefiting' the Protestant community. Gallagher said this was exacerbating the 'cycle of violence'.
Meanwhile as the cycle of violence continued with sectarian attacks on nationalists, the UDA's South Belfast brigadier, Jackie Mc Donald was enjoying a round of golf with Martin McAleese, husband of the President of Ireland. McDonald disclosed that Mc Aleese, through his extensive business contacts, helped him obtain funding for projects in unionist areas.
McDonald carried the coffin of John Gregg, linked to the murders of three young people but that didn't stop him receiving an invitation in 2004, to the inauguration of the President of Ireland.
The British Government earlier this year allocated £30 million to unionist areas after the UDA announced it was creating Orange lines around Protestant housing estates to keep nationalists out. An artist who painted a mural of the 'Northern Ireland' football match against England was paid £9,000. Another £3million has been allocated to unionist groups to paint out the sectarian fang and blood murals and replace them with George Best and CS Lewis.
The reason Southeast Antrim UDA is asking for £8.5 million is that they know they will get it. Its pay-off money to the UDA by the PSNI Special Branch and British Intelligence, Godfathers, who are up to their necks in the murderous activities of the Unionist paramilitaries. It is a scandal that tax payers money, yours and mine will be used to buy off murderers. What price peace?