28 September 2006 Edition
Butterly to address West Belfast event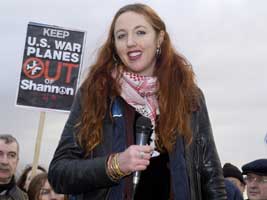 Human rights activist Caoimhe Butterly is to address a West Belfast audience at a Palestine Solidarity night this Friday, 29 September.
Butterly, who is currently in Beirut, is expected to give an in-depth report on the situation in Lebanon in the aftermath of the recent Israeli assault on the country.
Event organiser Alec McCrory called on people across Belfast to attend the function to show their support for the Palestinian people.
"We are attempting to make the leap from being 'sympathetic' to the Palestinian people to being 'active' on behalf of the Palestinian people."
McCrory added, "Israel is a terrorist state, aided by the United States, which is terrorising the Palestinian people and our aim is to highlight this and get progressive people actively involved in projects to defend the rights of the Palestinian people."
Make Zionism History takes place in the Roddy McCorley club rooms, Glen Road, Belfast on Friday, 29 September. Doors open at 7.45pm. Music will be provided by Pól MacAdaim and Terry 'Cruncher' O'Neill.