28 September 2006 Edition
Peace Process: Adams addresses Council on Foreign Relations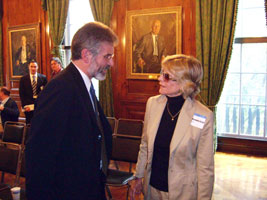 Governments must move ahead with process of change
In the United States last week Sinn Féin President Gerry Adams addressed the New York based Council on Foreign Relations which he provided with an update on the current state of the peace process in Ireland.
"The key to stability and progress in any peace process is the guarantee that the status quo, which led to the conflict, is changing and that discriminatory and repressive policies used in the past are being abandoned and replaced by a rights-based inclusive dispensation based on equality", Adams said.
The Sinn Féin President went on to say that unionist political leaders had demonstrated time after time a pre-disposition toward diluting, minimising and if possible stopping change.
"All of us have a duty to persuade unionism that the peace process and inclusive arrangements between the parties is the only road which can lead to a better future. The principle responsibility for advancing the rights and entitlements of citizens contained in the Good Friday Agreement lies with the two governments. And these cannot be vetoed by the DUP.
"Next month's discussions are not therefore about a choice between Plan A - the restoration of the institutions and the implementation of the Agreement - and Plan B - the two governments agreeing new partnership arrangements to implement human rights, justice, economic, and policing arrangements. What is required is a clear commitment from the two government that they are determined to move ahead whatever happens with a continuous, seamless process of change", he said.