28 September 2006 Edition
Initial victory over Shell at Bellanaboy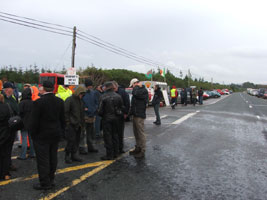 Shell's first concerted effort to break the picket at the gas refinery site at Bellanaboy, County Mayo was defeated through determined peaceful resistance last Tuesday.
Seven carloads of extra security guards sped into the compound at dawn while vigilant picketers gathered determinedly in front of the gates displaying banners and placards.
A convoy of workers, headed by two jeeps containing men in dark glasses and five minibuses drove at the crowd, barely stopping short of ploughing through the front line of women and children. The frontline women began to say the rosary, eventually accompanied by everybody on the picket line. The initial reaction of the Gardai and the convoy of workers was stunned silence.
A Garda Superintendent eventually spoke to the convoy of workers and after a brief discussion the vehicles were reversed and they retreated. The stand-off had lasted for 20 minutes.
Sinn Féin Spokesperson on Natural Resources, Martin Ferris TD congratulated picketers who this morning prevented access to the proposed Ballianboy terminal. He said it was the latest attempt by the Shell-led Corrib consortium to proceed with work on the site since the jailing of the Rossport Five.
Ferris went on to call for solidarity pickets at Shell and Statoil stations across the state.
"I would like to express my support and admiration for the protestors who are perfectly within their rights to oppose what is clearly an unpopular development in the area. As yesterday's poll for TG4 proved, the overwhelming majority of people in Mayo want the gas to be processed off-shore despite a dishonest propaganda offensive from Shell and their supporters in the media throughout the summer", he said.
"Despite this, Shell is committed to ignoring the interest of local people and has absolutely refused to consider off-shore processing to placing the pipeline on land. Any attempt by Shell to proceed will be met with resistance by people locally and that resistance will have the full support of Sinn Féin", said Ferris.
Several solidarity pickets were mounted on Tuesday evening in various parts of the country at Shell and Statoil stations.