28 September 2006 Edition
Remembering 1981: Faul makes public call for family intervention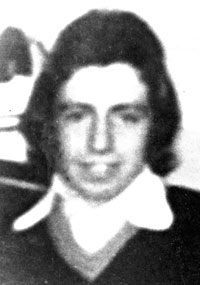 Jim Devine joins Hunger Strike
Jim Devine aged 24 from Strabane, County Tyrone, joined the H Block hunger strike on Monday, 21 September 1981. The Glasgow born man was the 23rd person to join the Hunger Strike. The second eldest in the Devine family with four brothers and five sisters, he was born in Glasgow. The family moved back to Ireland in the 1960s when John was a young man and lived in the predominantly unionist town of Comber in County Down.
Comber, where Jim spent most of his childhood, was a quiet town, but when conflict broke out in 1969 things changed. Several Catholic families were petrol bombed out of their homes. The local primary school which Jim had attended - St Mary's - was bombed by unionist paramilitaries. Jim and several other members of the Devine family were threatened. On one occasion Jim was forced to stand for the British national anthem, at the cinema and, more seriously, in another incident he had a knife put to his throat.
In March 1973 the Devine family left Comber and moved to Strabane in County Tyrone, where both parents originally came from. Jim Devine attended St Colman's High School in Strabane, but left to become an apprentice electrician in a government training scheme in Derry city. Meanwhile Devine was taking a keen interest in the political conflict and became an active IRA Volunteer. In September 1978 he was arrested from his home and after being held and threatened in Derry's Strand Road barracks, he was charged with various gun and bomb attacks.
Devine was held on remand for 16 months, and then in January 1979 he was sentenced to ten years' imprisonment in a non-jury Diplock court which he refused to recognise. Two months later he was sentenced to a further, but shorter concurrent term.
Jim Devine went on the blanket protest when he was sentenced. Had he conformed and not resisted 'criminalisation' he would have been due for release in 1983.
Devine's embarkation on the Hunger Strike brought the number of men on the fast back up to eight. Out of the eight men, four were in the prison hospital: 25 year old INLA Volunteer Liam McCloskey from Dungiven and three Belfast IRA Volunteers, Pat Sheehan, Jackie Mc Mullan and Bernard Fox. That week Fr Denis Faul, publicly appealed to the next of kin of Liam McCloskey and Bernard Fox to intervene of save their lives. After visiting the hospital, Faul warned that not only Liam McCloskey, but Bernard Fox, was entering a critical phase. He said Liam McCloskey was going blind and that Bernard Fox was in danger of suffering kidney failure due to his inability to hold down sufficient water.
An Phoblacht Magazine
AN PHOBLACHT MAGAZINE:
Don't miss your chance to get the second edition of the 2019 magazine, published to coincide with Easter Week
This special edition which focuses on Irish Unity, features articles by Pearse Doherty, Dr Thomas Paul and Martina Anderson.
Pearse sets out the argument for an United Ireland Economy whilst Pat Sheehan makes the case for a universally free all-island health service.
Other articles include, 'Ceist teanga in Éirinn Aontaithe', 'Getting to a new Ireland' and 'Ireland 1918-22: The people's revolution'.