28 September 2006 Edition
Conference: Activists gear up for political challenge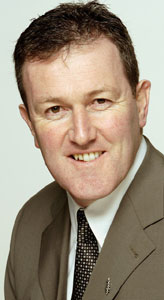 Dublin republicans discuss task of taking political power
Last Saturday, members of the Dublin Sinn Féin Officer Board and elected representatives from around the county travelled to Mullaghbawn in South Armagh for a conference entitled Training for Transformation. The event was part of Sinn Féin's preparation for attaining political power, eliminating the causes of conflict in Ireland and establishing a united Ireland of equals.
In an upbeat and confident mood, Dublin republicans discussed tactics and strategies going into the 26 County general election campaign and predicted a significant increase in Dublin Sinn Féin's representation in Leinster House post the election.
Conor Murphy MP gave an update on negotiations and Declan Kearney of Cúige Uladh gave an impressive presentation on the need for Sinn Féin to move into the next phase of the struggle - the transformation from a party of opposition to a party of power. This presentation was well-received by the Dublin republicans, eager to share their ideas and to push the project forward.
"Dublin republicans realise that being from the capital city we are at the very cockpit of the struggle. We must not only increase our representation in Leinster House and our vote across the city but we must use this increased mandate and the power that comes with it to bring about change in our communities and indeed throughout the whole island," said South Dublin Sinn Féin representative and general election candidate Shaun Tracey.
"Our party membership must also increase in line with our increased mandate. This is the challenge for Dublin Sinn Féin and I am confident that we are up for the challenge," he added.
Thorny political issues such as policing and coalition were addressed in a very frank, open and encouraging after-dinner speech by veteran republican Brian Keenan, who also spoke about the need for young republicans to play leadership roles in the struggle.
The Dublin republicans did not shy away from debate on any of the issues raised and it was generally felt that there is nothing that can stop the march of republicanism.