28 September 2006 Edition
Ahern controversy: Government hand-in-glove with unscrupulous developers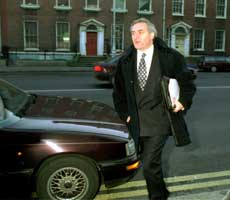 Ahern getting away with 'bigger scandals'
Bertie Ahern remains at the centre of a political storm this week over money he received while he was Finance Minister. The controversy emerged after it was revealed that the Mahon Tribunal is investigating if the Taoiseach received money from property developer Owen O'Callaghan.
Ahern insisted on Tuesday he did nothing wrong by accepting payments that he described as loans from friends. He made the comments in a televised interview following intense pressure after leaked documents last week forced him to confirm he was being investigated by the Tribunal.
Ahern said he received two payments totalling €49,520 from two different groups of friends in 1993 and 1994 and that he viewed these as loans which he would repay with interest.
The 12 people who gave Ahern money included Fianna Fáil fundraiser Des Richardson; well-known publican Charlie Chawke, builder and former Fianna Fáil councillor Joe Burke; auctioneer Fintan Gunne (now deceased); publican Dermot Carew, and former NCB managing director Padraig O'Connor.
The others are Gerry Brennan, Ahern's personal solicitor for many years; David McKenna, former director of Marlborough Recruitment, Paddy Reilly, Jim Nugent, Mick Collins and Barry English - all close friends of Ahern.
"There was no corruption in this, no favours sought, no favours given," Ahern said.
However, he said he had not yet repaid either the money or any interest.
An emotional Ahern denied any wrongdoing by accepting the money, saying he agreed to provide money for his children's education as part of the separation from his wife. He added that he had broken "no codes, ethical tax, legal or otherwise".
Last week the Taoiseach denied he had questions to answer, saying the matters were his "own private business".
For the last nine years the Mahon Tribunal has been investigating payments involving property developers and government representatives, many of whom were members of Fianna Fáil.
Bigger scandals
Sinn Féin Dáil leader Caoimhghín Ó Caoláin said the reality was that the Taoiseach had been "let off the hook" on bigger scandals than those alleged in the current controversy. He said the facts revealed on Tuesday regarding the manner in which property developers were being allowed to "shred" Part V of the Planning and Development Act and refuse to build social and affordable housing in the 26 Counties showed the "hand-in-glove relationship" between the Fianna Fáil/Progressive Democrat Government and unscrupulous developers.
The Cavan/Monaghan TD said: "Most people will question why the Taoiseach received large donations and/or loans from a group of business people and why he did not address his personal affairs, including legal bills, in the way most people do. The only reason this is in the public domain is because the Mahon Tribunal is investigating if the Taoiseach received money from property developer Owen O'Callaghan.
"The reality is that the Taoiseach and his Government have been let off the hook on bigger scandals than those alleged in the current controversy. At the core of these scandals is the close relationship between the Fianna Fáil/PD government and property developers and the oil and gas industry. These scandals include:
The changing of Part V of the Planning and Development Act after intensive lobbying from developers. The original Part V required developers to provide 20% social and affordable housing in all developments. This was changed by the FF/PD Government at the developers' behest so that they can buy their way out of their obligations by paying money to local authorities. As a direct result lower income families have been deprived of homes
The granting of major tax concessions to developers of private hospitals. Bertie Ahern's successor as Finance Minister, Charlie McCreevy, admitted that he brought in this concession after lobbying from a private hospital developer in his constituency.
The allocation of land at public hospital sites to private developers to build private for-profit hospitals while our public hospital system struggles from crisis to crisis.
The ongoing robbery of our natural gas and oil supplies by multinationals that have been handed these resources free gratis by successive governments, including the present administration.
"All of these measures are legal but totally unethical and against the public interest. The Taoiseach and his colleagues should be held accountable for them", Ó Caoláin said.
Sinn Féin announced on Wednesday that it would publish legislation during the current Dáil session to reverse the changes to the Part V of the Planning and Development Act brought in by the government in 2002. Caoimhghín Ó Caoláin described Fianna Fáil as being owned 'lock, stock and barrel by the construction industry' while Social Affairs spokesperson Seán Crowe TD challenged the other parties to support Sinn Féin's legislation.