28 September 2006 Edition
Public anger explodes over hospital crisis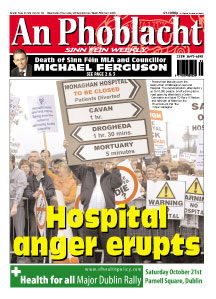 Sinn Féin Dáil Leader and Spokesperson on Health and Children Caoimhghín Ó Caoláin has called on the Minister for Health and Children Mary Harney and the Health Services Executive (HSE) to recognise the depth of public anger displayed at a massive protest last Monday in support of Monaghan General Hospital. He demanded that they restore the services that have been removed from the hospital.
Around 10,000 protesters turned up to highlight their opposition to the withdrawal of acute in-patient services from Monaghan Hospital. The overwhelmingly peaceful protest was organised by the Monaghan Community Hospital Alliance.
The protest disrupted the official opening of a new bypass in Monaghan, and Ceann Comhairle of the Dáil Rory O'Hanlon and Minister of State for Transport Pat the Cope Gallagher were jeered and harangued by some people in the crowd. The government representatives were surrounded by Gardaí who eventually ushered Rory O'Hanlon away from the scene of the demonstration.
Long campaign
The campaign to protect and retain essential services at Monaghan General Hospital has been ongoing for many years. As far back as 1984, local people organised themselves to mount a High Court challenge when the then-Minister for Health Barry Desmond threatened to close down obstetric, gynaecology and paediatric services at the hospital.
Monaghan lost maternity services in 2001. There was public outrage when, as a consequence, Denise Livingstone was turned away from the hospital in 2002 in an advanced state of labour and gave birth to a premature baby girl in an ambulance while being transferred to Cavan Hospital. The baby died within hours.
Emergency services were subsequently removed from Monaghan, leading, according to many people, to the unnecessary death of Pat Joe Walsh almost a year ago. Walsh required emergency surgery and doctors attempted to transfer him to three other hospitals for an operation. None would accept him and he bled to death. It subsequently emerged that two of the hospitals - Cavan and Our Lady of Lourdes in Drogheda - had beds free.
Speaking after participating in the huge protest last Monday, Caoimhghín Ó Caoláin said:
"Some 10,000 people today voiced their unequivocal opposition to this Government's ongoing destruction of Monaghan General Hospital. The numbers of people who mobilised from early in the morning and from every part of County Monaghan and beyond have sent a powerful message to the Government and the Health Service Executive. We want the restoration of the services which have been axed from Monaghan General Hospital and we want our hospital developed as a key part of the healthcare infrastructure in this region."
Dublin rally
Ó Caoláin said that the 26 County Minister for Health and Children Mary Harney and the HSE must recognise the depth of public anger. "They must also recognise the weight of opinion from patients, relatives of those who have died as a result of the downgrading of Monaghan General Hospital, and the expert testimony of frontline healthcare workers in this region. To date the Minister and the HSE have placed more value on the reports of faceless consultants such as those who authored the totally unacceptable Teamwork Report.
"Minister Pat the Cope Gallagher eventually performed his road-opening ceremony in the company of his Fianna Fáil colleagues Dr. Rory O'Hanlon TD and Senator Francis O'Brien. Their furtive photo-opportunity, after they had to avoid the protest of thousands of local people, can only be described as pathetic.
"Sinn Féin invites all those concerned with the state of our health services, including the downgrading of local hospitals, to attend our major rally in Dublin on Saturday 21 October which will be demanding Healthcare Rights for All."