21 September 2006 Edition
PDs on tax : Increasing inflation and inequality
BY Aran Foley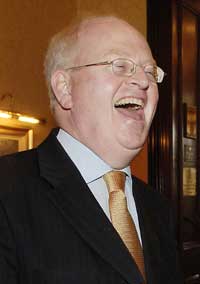 McDowell outburst on tax causes coalition tension
The assertion by newly-selected Progressive Democrat leader and Tánaiste Michael McDowell that the 26 County Government could do without the €2.6 billion raised through stamp duty - a tax on the sale of property - has raised tensions in the Fianna Fáil/PD coalition. The blatantly right wing and elitist nature of the PDs and the populist aspirations of Fianna Fáil have been drawn into sharp contrast by McDowell's latest outburst.
At a time when the health service is in crisis, classrooms are overcrowded and there is a general lack of investment in public services, McDowell's assertion has prompted Fianna Fáil backbenchers to describe the remarks as unhelpful, while Finance Minister Brian Cowen has warned that any shortfall would have to be made up elsewhere. Reductions in capital gains taxes such as stamp duty were not part of current government policy, he said.
Sinn Féin alternative
Speaking in Malahide on 18 September at the launch of the PD election manifesto, McDowell called for sweeping changes in taxation that would overwhelmingly benefit the better-off in society, his natural constituency.
But it is clear that the effects of the PD proposals to cut tax and stamp duty would be to further fuel inflation increases.
Sinn Féin's Finance spokesperson Caoimhghín Ó Caoláin TD labelled McDowell's remarks as "nothing but a cut and paste job of failed Thatcherite policies". Speaking on 18 September, Ó Caoláin warned of dire consequences for public services should the PDs' tax policies be implemented.
Referring to a 2005 Central Statistics Office report which showed that 21% of the population were at risk of poverty - one of the largest figures in the EU - Ó Caoláin charged that the PDs' tax policies were designed to "preserve and accentuate" the inequalities identified by the CSO.
"Irish voters must decide if they are prepared to allow a fringe and fanatical wealthy elite to further profit while public services are decimated and private interests ransack state companies such as Aer Lingus, An Post and the ESB," he said.
Ó Caoláin said that Sinn Féin had a clear alternative which would involve a radical overhaul of the tax system so that "those with more pay more and those with less pay less". In this way Sinn Féin would raise the necessary revenue to deliver on healthcare, education, childcare, housing and infrastructure. All of these areas are in chaos as a result of the policies pursued by the current government, said Ó Caoláin.
Fine Gael/Labour divisions emerge
While Fianna Fáil backbenchers grumbled that McDowell's remarks made it impossible to toe the government line - that the money isn't there - in the face of local constituency funding demands, both Fine Gael and Labour seized on the rift McDowell's policies have revealed, reminding Taoiseach Bertie Ahern that last year he publicly stated that the era of tax cuts was over. But these interventions came amid rising tensions between Labour and Fine Gael over the raft of policy divergences between the two parties in what Sinn Féin has termed the 'coalition of the confused'. The Irish Times reported on 19 September that Aidan Culhane, Labour Party candidate for Dublin South, had expressed doubts about the wisdom of Labour tying itself to Fine Gael.
Speaking at the Labour 'think-in' in Cork last Monday, Culhane said that Fine Gael had become the story and that Labour was being marginalised. Speaking at the same conference, Labour TD for Dublin West Joan Burton said that Fine Gael must drop its support for the building of private hospitals on public lands, further exacerbating divisions between the two parties.