21 September 2006 Edition
Review
BY Mícheál MacDonncha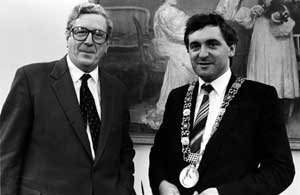 Garrett the partitionist
TV Review
Garrett at 80,
RTÉ 1,
Sunday, 17 September.
Garrett FitzGerald at 80 still maintains the air of a slightly befuddled academic who looks on his past career with the detachment of a historian. But this is just as much an act as it always was when he was a 'player'. FitzGerald is a dyed-in-the-wool Fine Gaeler for whom antipathy to Irish republicanism has been a prime motivating factor. He was unable to conceal this fact in his interview with Martin Mansergh which focused on the Six Counties.
Without embarrassment, FitzGerald admitted that he couldn't recall having any contact with Northern nationalists during the cataclysmic events of 1969. In fact he was on his holidays and Fine Gael colleagues urged him to stay away as his anti-nationalist views would be unhelpful in the prevailing climate. At the same time he admitted that "we let nationalists down" as all Irish governments did. This was not the only contradiction on show. He stated that the unionists had created a state that was "strongly sectarian" but "we [in the 26 Counties] did most of the moving apart" from the North after partition. He said partition was wrong but defended all his efforts to thwart any anti-partition approach by Irish governments.
Instead of seeing as an opportunity the fact that the British Labour Government in 1975 was considering withdrawal as one of their options, FitzGerald and his colleagues in the Fine Gael/Labour Government viewed this with alarm. He was obsessed, then and later, with the horrible thought that the British were secretly talking to the IRA.
The depth of dishonesty was reached when FitzGerald trotted out the false claim that the IRA scuppered a potential resolution of the 1981 Hunger Strike in the hours before Joe McDonnell's death. This lie has been well exposed but FitzGerald repeated it as another strand in his web of self-justification.
Almost uniquely among former senior Irish Government figures, FitzGerald has written extensively about his career and made himself available for interviews. But he can conceal as much as he reveals and he is where he always has been - in the bunker in Dublin 4. Behind the academic air and the liberal pose is a pillar of the establishment who worked hard to protect the privilege of a political caste in the 26 Counties that owed its power to partition.