21 September 2006 Edition
Mayors and Chairs to spearhead voter registration campaign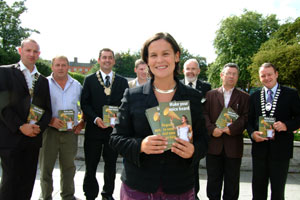 BY
 ELLA O'DWYER
Sinn Féin Mayors and Chairs on local authorities across Ireland met in Dublin on 14 September, where they discussed priorities for their period in office and agreed to spearhead a voter registration campaign across the country in the coming months. Sinn Féin Chairperson and Dublin MEP Mary Lou McDonald, Aengus Ó Snodaigh TD and Francie Molloy MLA also attended.
Political initiatives discussed by participants at the Dublin meeting included disability access, an international day against poverty, road safety, mental health and suicide prevention. Also on the agenda were plans to assist efforts to restore the political institutions in the North.
Speaking to An Phoblacht after the event, Councillor Brian Stanley, Sinn Féin Mayor of Portlaoise and the party's Laois-Offaly candidate in the next general election, said that the issue of voter registration was crucially important: "We represent a broad constituency of ordinary working class people. By and large there's 40 to 50% of the population who are either not registered or don't vote in elections. As a party involved in radical politics we need to be looking at that problem," he said.
"I often say that election day is one day when we're all equal in that we all only have one vote. Whether we all have equal power after election day or not is another day's work," said Stanley.
Stressing the importance of being registered, he said: "Every person over 18 should be registered to vote. As a party we're taking that a step further in that it's our policy that people over 16 should be entitled to vote." On Sinn Féin's prospects in Laois-Offaly he said: "We're going out to win a seat."
Also speaking to An Phoblacht, Wexford candidate and Mayor of New Ross John Dwyer said: "This meeting and the large number of Sinn Féin Mayors and Chairs is indicative of the rising strength of Sinn Féin nationwide. Compare where we're at now and where we were ten years ago. You could count on one hand the number of people who would have been in lead positions or number one citizens. But we can expect a lot more of this.
"Of course the big challenge is that we don't lose the run of ourselves in all these positions. We could easily be sucked into a political system that is designed to suck people in. If you look at the experience of the Sticks and all the rest of them, they once claimed to be radical and now are more conservative than any of the conservative parties."
On his prospects in the general election, Dwyer said: "I'm very, very hopeful. Going into the last local election we had four Town Councillors and no County Councillor. Following that election we have four Town Councillors and three County Councillors."
Following the meeting Joe Reilly, Sinn Féin candidate for Meath, said that he was fighting for the third seat in a three-seater constituency. Issues facing his constituents relate to the ongoing expansion of the Dublin region, where places like Navan have largely become dormitory towns for the capital. Reilly stressed the need for the development of an adequate infrastructure for Meath. The priority is the provision of adequate public services: schools, housing, roads and healthcare.
"Our Lady's Hospital Navan has been downgraded. The A&E facility there is 30-year-old prefab. Morale is very low. There's now 162,000 people living in County Meath, which is creating problems around housing in particular. There are serious problems of inequality in the region and addressing these inequalities is a major priority for Sinn Féin," said Reilly.