21 September 2006 Edition
Anger and apprehension over new Drumcree rally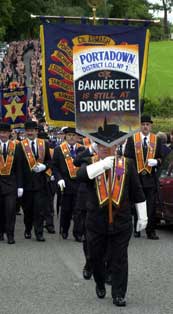 The failure of the Parades Commission in the Six Counties to issue a determination regarding a planned loyalist rally in Portadown this weekend is causing widespread anger and apprehension within the local nationalist community.
On Tuesday, Sinn Féin Upper Bann MLA John O'Dowd said that, given the history of policing in Portadown and in particular the policing of Orange Order parades, the nationalist community is rightly uneasy at the prospect of this weekend's Drumcree rally going ahead without a determination from the Parades Commission.
"If the Commission fails to issue a determination then issues such as the route on the day will once again fall into the hands of the local PSNI. The nationalist community in Portadown have no confidence in the PSNI handling such a situation impartially," he said.
"It is clear that this weekend's rally is part of a DUP and Orange Order agenda to try and place the issue of the Drumcree parade onto the political agenda in advance of planned talks early next month. The residents of Garvaghy Road have become accustomed to this type of pressure over many years. People should not forget that the Orange Order effectively laid siege to the nationalist community in Portadown for years with the active support of all of the main unionist paramilitary gangs. Sectarian violence became a by-word for the Drumcree protest.
"We have submitted a formal application to the Parades Commission to review their failure to issue a determination and we look forward to a speedy response. However, up until now all discussions and deliberations regarding this weekend's loyalist rally have been done behind closed doors with no transparency or explanation," said O'Dowd.