21 September 2006 Edition
Policing board picketed in Clonard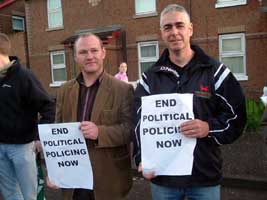 Residents of the Clonard area of West Belfast picketed a meeting of a local District Policing Partnership Board in the Forthspring Centre on the Springfield Road on Monday, 18 September.
Residents spokesperson Daniel Jack said that local people were angry that the meeting was taking place there "given the PSNI behaviour in the Clonard area over recent weeks".
Jack accused the PSNI of using heavy-handed tactics against local youths: "While the PSNI are ignoring the thugs involved in anti-social behaviour they are giving young people, who are involved in nothing, a hard time."
Fra McCann, Sinn Féin Assembly member for the area, confronted the SDLP's Tim Attwood during the protest over his party's support for the PSNI.