7 September 2006 Edition
Council scandal: Developer offers councillors €700 tickets
BY Aran Foley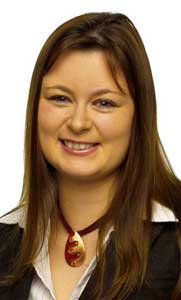 Ryder Cup tickets offer raises corruption concerns
Joanne Spain, Sinn Féin candidate for Dublin Mid West in the next 26 County general election, has described a property developer's offer of Ryder Cup tickets to certain South Dublin councillors as "sinister". The offer, by developers Menolly Homes, was exposed last week by Sinn Féin's Clondalkin Councillor Shane O'Connor.
Speaking on Friday, 1 September, Joanne Spain said it was of particular concern that the offer appeared to be geographically spread, concentrating on the Clondalkin/Lucan and Terenure/Rathfarnham electoral wards.
"I will be keeping a close eye on the activities of this company in these areas and Sinn Féin will be raising the matter formally with South Dublin County Council," Spain said.
Menolly Holmes has admitted previously to paying former Fianna Fáil TD Liam Lawlor 40,000 punts to get a postal address changed, adding approximately 5,000 punts to the value of the hundreds of houses the company had built in the area. Joanne Spain said it now appears that the company will not face any consequences for this and as a result, it comes as no surprise that Menolly Homes is comfortable enough to make these latest offers to County Councillors.
"The latest development calls into question the effectiveness of the various tribunals into planning corruption. No one seriously believes any of the developers will be held to account for the usurpation of democracy through bribery. That fact alone ensures that attempts at planning corruption will continue," she said.
"The presence of the Bailey Brothers, developers who have featured prominently in the planning tribunal, at this year's Fianna Fáil hospitality tent at the Galway Races reveals the real attitude of this government to corruption. In any ordinary society people like this -- who didn't even feel obliged to pay their taxes -- would be 'persona non grata'. The fact is that the Taoiseach and other Fianna Fáil Ministers display a breathtaking tolerance for corruption which remains undiminished to this day.
Sinn Féin not for sale
"The one thing that has changed over the years in relation to all of this is the enhanced Sinn Féin presence on local councils. Sinn Féin is not a party that is for sale like most others. We will be exposing the ongoing corruption as it comes to our notice and developers should be on notice that the cosy consensus on corruption -- which earned them vast, and illegal fortunes -- is at an end."
Spain went on to say that the Clondalkin/Lucan ward in particular is the display trophy in the corruption cabinet. The area is scarred by inappropriate planning decisions and is a monument to corruption in the planning process. "On one level it is staggering that this company could feel comfortable making these offers in this of all areas. However on reflection, and for the reasons I have just outlined, it comes as no surprise at all.
"I am aware of one councillor, a member of Fianna Fáil, who was not content with the offer of one ticket -- valued at €700 -- and demanded two. The activities of this company and the voting record of councillors in relation to it need to be kept under constant review. I along with my colleagues on South Dublin County Council will be doing this.
"Councillor Shane O'Connor obtained a list of councillors who accepted this offer. He will be formally challenging them to admit this in the Council. So far only Marie Ardagh of Fianna Fáil has admitted accepting the tickets," said Spain.