7 September 2006 Edition
Interview:Barry McColgan, national organiser, Ógra Shinn Féin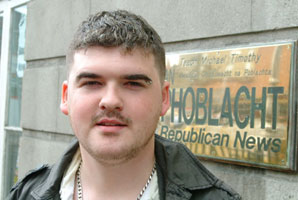 'We can overcome anything in our path'
Recently appointed Ógra Shinn Féin National Organiser Barry McColgan talks to ELLA O'DWYER about himself, his political involvement to date and his plans for Ógra.
At the age of 15 Barry McColgan immersed himself in the Ego drugs awareness project, out of which evolved his involvement in the Ógra.
"I struck up contacts through the Ego project and another Omagh lad asked me to help him establish Ógra locally."
In 2001, at 16 Barry joined Ógra and within a year he was local organiser of a very active Ógra cumann in West Tyrone. The West Tyrone cumann saw the importance of Ógra activity at local level, as opposed to confining activity and focus within the universities and colleges.
"College cumainn are integral to developments within the organisation on many levels, particularly recruitment, but the real backbone of the organisation is at local level. While we recruit and skill people in the colleges, we strongly encourage the members to take their talents and commitment back into the community."
It was against the backdrop of his role in the local Ógra cumann that he was selected to become the Six-County (subsequently Uladh) organiser.
"I was elected local organiser for West Tyrone in 2002 and quickly our cumann established itself as the most active and probably the strongest local cumann throughout the country."
They campaigned around demilitarisation, Iraq and the broad anti-imperialist campaign. They also campaigned for the closure of the British military barracks in Omagh.
McColgan commended the organisational work of his predecessor as national organiser, Micky Bravender, who made a strong contribution to the development and consolidation of Ógra structures at cuige and national levels.
In January 2004, McColgan became Six-County organiser and was the driving force behind the development of the Ógra in the region, paving the way towards his current role as national organiser.
One of his priorities is the development of a strong anti-imperialist mobilisation in this country, one that particularly profiles the occupation of Ireland.
"One of our strategic objectives is to build a broad anti-imperialist front in Ireland but that hasn't been successful. Many of the left-wing groups who work on the anti-imperialist front actually forget about Ireland."
McColgan also addresses social and economic injustice and the aspiration to the socialist republic. "We need an economic system that is equality-based rather than having profit at its core."
He went on to identify social ills like suicide as symptoms of the current profit-centred economy in Ireland. "Suicide is one of the worst negatives of living in a capitalist state."
Suicide prevention has been one of the main priorities for the Ógra over recent years and the organisation is calling for an all-Ireland approach to the problem. By way of a culmination to their suicide awareness campaign, the Ógra plan to hand a petition to Mary Harney, Minister for Health and Children, on 21 October in Dublin.
Another feature of the Ógra's work is engagement with unionist youth, a task that, though difficult at times, also gets results. In fact, some young unionists have signed the suicide prevention petition. There is a common awareness that, as McColgan puts it: "Suicide knows no boundaries and crosses all divides."
Barry studied economics and history for three years in Queen's University, only leaving to undertake his Ógra work full-time.
While membership of Ógra extends into thousands, Barry estimates that the core activists number in the region of 300, approximately 60 of whom are female - the aim is to turn these 300 into 3,000 within five years. On the prominence of women within the organisation, he pointed out that his replacement as Six-County organiser is a woman, Andrea O'Kane.
Ógra members also become Sinn Féin members and for Barry one of the functions of the Ógra is to equip young people with the necessary skills to pursue political activism while cultivating confidence. This, he said, is one of the reasons why Ógra membership extends to 29 years of age.
"I remember attending one of my first Sinn Féin meetings. The room was full of Ógra activists and some ex-prisoners, people who had been through the war. I was very nervous when I spoke. I wasn't confident. When we had Ógra meetings we were amongst peers and could develop confidence."
Barry's position is a full-time one and the Ógra is calling for two additional full-time posts: a national development officer and a college co-ordinator. While such roles would initially need to be funded by the party, he believes that in due course the Ógra can secure financial sustainability its own right.
"Part of our five-year plan is to establish ourselves as a self-sufficient body financially. We have a number of finance initiatives. We plan to raise funds through draws, youth festivals, T-shirts and sales from the planned revival of The Spark magazine and income from sales of the recent publication, Awaiting the Lark, and similar ventures."
Barry McColgan takes inspiration from the 1981 Hunger Strikers.
"Sometimes, if motivation runs a bit low or you feel a bit deflated, you think of the likes of Francis Hughes who, when on hunger strike, said that though he didn't have his Armalite with him, he could still use his body. You can always find a strategy even when there seems to be no hope at all. You can find all the inspiration you want in terms of activism or strategy from the era of the Hunger Strike."
Barry McColgan is a vibrant young man who enjoys life. Two of his favourite films are, perhaps not surprisingly, Braveheart and The Wind that Shakes the Barley.
Does he enjoy his work? "Of course I do. I love it. Who wouldn't want to be working full-time on a project they feel so passionately about?" By way of closure to his personal contribution in the Ógra publication, Awaiting the Lark, Barry McColgan wrote:
"Whatever problems we encounter truly are wee buns. With the Hunger Strikers in our hearts and minds we can overcome anything in our path.
"We are the generation who will see the rising of the moon - onwards to the socialist republic."
An Phoblacht Magazine
AN PHOBLACHT MAGAZINE:
Don't miss your chance to get the second edition of the 2019 magazine, published to coincide with Easter Week
This special edition which focuses on Irish Unity, features articles by Pearse Doherty, Dr Thomas Paul and Martina Anderson.
Pearse sets out the argument for an United Ireland Economy whilst Pat Sheehan makes the case for a universally free all-island health service.
Other articles include, 'Ceist teanga in Éirinn Aontaithe', 'Getting to a new Ireland' and 'Ireland 1918-22: The people's revolution'.