31 August 2006 Edition
Reviews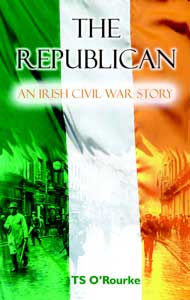 Novel addresses denial of Civil War
The Republican - An Irish Civil War story.
By TS O'Rourke
Price €10.99.
ISBN 1-905706-00-6
It is a remarkable fact that the Irish novel has largely ignored the story of the Irish Civil War.
TS O'Rourke thinks this is because there still exists a collective denial that the conflict even happened. He has now made his own impressive contribution to addressing that denial with his latest novel.
Although Roddy Doyle has used the Rising and the Civil War as a backdrop for some of his recent work, TS O'Rourke makes the Civil War his main story. This darkest hour in modern Irish history is the central character in O'Rourke's finely crafted novel.
He was motivated to write the novel when his grandfather gave him a letter from a relative, a republican prisoner of Free Staters, writtenon the eve of his execution in March 1923.
This struck a personal chord with me as my grandmother's brother was awaiting execution in Dublin at the same time. The ending of the Civil War saved his life. Although delighted to have escaped the firing squad he always harboured the guilt of the survivor that he wasn't among the 77.
I usually give away most of the review copies that come my way after I have reviewed them for this newspaper. Not a chance with this one.
I would recommend this novel to any comrade as O'Rourke tells the story of Volunteer Jack Larkin - he could've been any of us.
BY
 MICK DERRIG
Ó Cadhain's Cré na Cille - Now available on CD
2006 is the centenary of the birth of one of the greatest Irish writers of our times, Máirtín Ó Cadhain. As part of the centenary celebrations, a dramatised version of his outstanding novel, Cré na Cille, has been published on CD by Cló Iar Chonnachta in conjunction with RTÉ Raidió na Gaeltachta.
Cré na Cille is widely considered to be one of the most important literary works in the canons of modern Irish literature.
Set in a graveyard in Conamara sometime in the late 1940s, its principal character is an old woman, Caitríona Pháidín. On her burial, she finds a lively community of her already-dead neighbours below ground arguing between themselves over whatever issues were uppermost in their minds when they died. As they continue their arguing and wrangling, newcomers to the graveyard impart the latest information about the world of the living. It makes for lively exchanges and oft-times hilarious repartee and razor-sharp dialogue between a motley crew of characters.
In 1973, one year after RTÉ Raidió na Gaeltachta was founded, a dramatisation for radio of Cré na Cille was produced by Johnny Chóil Mhaidhc and Aisteoirí Chonamara. It featured the cream of Conamara's acting talent, with a cast of 26 actors involved in over 25 half-hour episodes.
The production has been revisited by RTÉ Raidió na Gaeltachta producer Máirtín Jaimsie Ó Flaithbheartaigh as part of the station's commemoration of Ó Cadhain's birth. Twenty-five episodes were broadcast on Sunday mornings from January to June of this year. The production is now available as an eight-CD pack from Cló Iar Chonnachta and is published in conjunction with RTÉ Raidió na Gaeltachta. It is available in bookshops and on the web at www.cic.ie, price €40.
A stage production of Cré na Cille played to full houses as part of the Galway Arts Festival recently and has toured the Aran Islands and Tír an Fhia in County Galway, with upcoming Dublin dates at the Axis Theatre, Ballymun, in late October.
Some of the actors in this stage production also featured in the original radio drama and are household names thanks to the TG4 soap opera Ros na Rún. They include Tom Sailí Ó Flaithearta, Máire Pheter Uí Dhroighneáin and Joe Steve Ó Neachtain.
An Phoblacht Magazine
AN PHOBLACHT MAGAZINE:
Don't miss your chance to get the second edition of the 2019 magazine, published to coincide with Easter Week
This special edition which focuses on Irish Unity, features articles by Pearse Doherty, Dr Thomas Paul and Martina Anderson.
Pearse sets out the argument for an United Ireland Economy whilst Pat Sheehan makes the case for a universally free all-island health service.
Other articles include, 'Ceist teanga in Éirinn Aontaithe', 'Getting to a new Ireland' and 'Ireland 1918-22: The people's revolution'.