31 August 2006 Edition
Spotlight to shine on RUC torture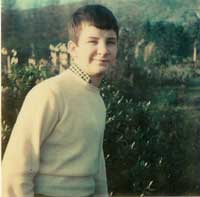 A Derryman tortured by RUC detectives in 1978 and forced to sign false confessions will have his case heard by the Court of Appeal.
Charlie McMenamin was just 16 years old in 1978 when he was held in Strand Road RUC barracks in Derry. After three days of intense RUC interrogation, he confessed to attempting to kill a British soldier and possession of weapons.
He was convicted in 1980 after pleading guilty.
Now the 47-year-old says his case will shine the spotlight on the torture methods of the RUC and the judicial system which accepted confession evidence without question and convicted thousands of nationalists.
During his three-day detention, and despite being regarded legally as a minor, McMenamin was held incommunicado and was refused access to a solicitor or visits from his parents.
With pressure mounting during his interrogation young McMenamin used a plastic knife to cut himself. When the RUC found him bleeding in his cell they sent for a doctor, who bandaged the youth but deemed him fit enough for his detention to continue. In subsequent interrogation sessions McMenamin admitted other offences.
Now 27 years on, after his case was examined by the Criminal Cases Review Commission (CCRC), McMenamin is confident his conviction will be quashed.
In its ruling the CCRC outlined six grounds for referring his case to the Court of Appeal.
Among these are the conditions under which McMenamin was detained and interrogated and the fact that the only evidence against him was his own signed statement.
However, speaking to An Phoblacht, McMenamin pointed out that it was only after his present solicitor received papers from the CCRC that he found out the DPP had issued a direction not to prosecute him over two of the charges against him because "he had a solid alibi".
Those charges were the most serious charges of conspiracy and attempting to kill a British soldier.
McMenamin is questioning why the prosecution pursued these charges, and accused them of pressurising him into pleading guilty when they warned he faced a life sentence if he was found guilty in a Diplock Court.
Meanwhile, the Court of Appeal has quashed the conviction of County Armagh man Paschal Mulholland.
Mulholland was 16 in 1976 when he was charged with membership of Na Fianna and a petrol bomb attack on Portadown RUC barracks.
As with the McMenamin case, Mulholland was convicted on the basis of statements made under RUC interrogation. At no time was the teenager allowed access to his legal representatives or his parents although at the time he was a minor.