31 August 2006 Edition
Remembering 1981: Prisoners highlight attempts to undermine support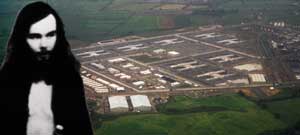 British 'only interested in a total surrender'
This week 25 years ago, following the deaths of ten republican Hunger Strikers, the Blanketmen in the H-Blocks of Long Kesh publicly challenged the British Government's tactical attempt to obtain a surrender from the protesting prisoners and reiterated their own genuine attempts to end the impasse.
The 29 August statement spoke of speculation at the time that the British Government was in the process of announcing changes in the prison for conforming prisoners:
"Judging from Mrs Thatcher's remorseless and undisguisedly vindictive attitude to date, we can take no other view than that any such initiative by the British Government would be merely a tactical manoeuvre to undermine the support for the Hunger Strikes by attempting to fool genuinely concerned people who are not aware of the nature of life under a British prison regime."
The statement went on to say that the prisoners had endeavoured to end the Hunger Strike and to reach a "practical and principled settlement for all sides" and that previous statements from the men had proven as much.
"It seems that the British Government assumed that our reasonable statements represented a weakening of our resolve which continuing British intransigence could eventually break."
The men evaluated the British Government's response by saying that Downing Street was "only interested in what amounts to a total surrender".
20th man joins Hunger Strike
Gerry Carville, a single man from Greencastle, County Down, joined the 1981 Hunger Strike on Monday 31 August at the age of 25. He was the 20th man to join the fast.
He was the youngest of a family of 11, with six sisters and four brothers. His mother died in 1973 and his father in 1974.
Brought up on a small farm four miles outside the small fishing port of Kilkeel, Gerry was an enthusiastic Gaelic footballer in his early teens and played for Greencastle GAC and for Down minor football team.
In 1974, at the age of 18, Gerry moved to Belfast, where he worked as a civil servant. He left the following year and returned to Kilkeel, where he worked on a fishing boat until his arrest in 1977.
Gerry's republican involvement followed his active participation in the Civil Rights Movement and his revulsion at the British Army slaughter in Derry on Bloody Sunday in 1972. He joined the Republican Movement in 1974.
On 1 April 1977, Gerry was arrested near Kilkeel Barracks, shortly after the RUC had discovered a rifle in a nearby garden. He was taken to Kilkeel and then Newcastle RUC Barracks, where he was ill-treated and subsequently shot and wounded while trying to escape. Gerry was charged with possession of a rifle with intent and with participation in IRA commercial bomb attacks on three hotels and a pub. He spent 17 months on remand: nine in Crumlin Road and eight in the H-Blocks.
At his trial in September 1978 he was sentenced to 14 years. On being sentenced, Gerry joined the Blanket Protest and subsequently the No-Wash Protest. He suffered several beatings from warders, resulting in black eyes and bruising. At Christmas 1978, he was one of those forcibly scrubbed and Screws sheared off his hair.
Gerry Carville was one of the 30 men who joined the first hunger strike in 1980. He remained on the 1981 Hunger Strike until its conclusion on 3 October.
An Phoblacht Magazine
AN PHOBLACHT MAGAZINE:
Don't miss your chance to get the second edition of the 2019 magazine, published to coincide with Easter Week
This special edition which focuses on Irish Unity, features articles by Pearse Doherty, Dr Thomas Paul and Martina Anderson.
Pearse sets out the argument for an United Ireland Economy whilst Pat Sheehan makes the case for a universally free all-island health service.
Other articles include, 'Ceist teanga in Éirinn Aontaithe', 'Getting to a new Ireland' and 'Ireland 1918-22: The people's revolution'.