24 August 2006 Edition
Fógraí bháis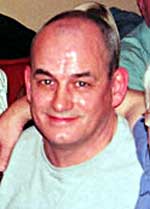 Sad passing of Troops Out Movement comrade
It is with great sadness that we report the death of our friend and Troops Out Movement comrade Colm Reaney, shortly after 6pm on the evening of 18 August.
Colm was 46 years old and was diagnosed with Non-Hodgkins Lymphoma two months ago. Just one month into an anticipated eight month session of chemotherapy he developed a chest infection and pneumonia.
His wife and children were at his bedside when he peacefully passed away. Colm didn't suffer any pain. The oxygen level in his blood dropped as his heart rate and breathing slowed down over a period of a half hour or so, until he simply breathed no more.
When it became obvious that the end was imminent, his children Ciara, Keri, Kirsty and Colm bravely told him "it's OK - let go Dad - you've done your best" and his wife Mandy assured him of how much she loved him. His family's words were the last words he would have heard - and would have wanted to hear.
One wall of Colm's Intensive Care Unit room was adorned with cards sent by his family and friends, as well as photographs taken with his family, his friends and comrades from the Troops Out Movement, from Belfast, from Derry and from Dublin.
He was a passionate Troops Out Movement campaigner on justice issues. Especially close to Colm's heart were the Bloody Sunday and Plastic Bullets campaigns. He attended the Bloody Sunday Inquiry as often as he could when it was sitting in London, and during the Troops Out Movement's August delegations to Belfast, he took part in the Plastic Bullets white line vigils outside the old Andersonstown barracks.
Colm took great pleasure from his friends and comrades and we are pleased and proud to have called him our friend.
By Seán Mac Conmara, Troops Out Movement Co-ordinating Committee