24 August 2006 Edition
Hunger Strikers remembered in Derrygonnelly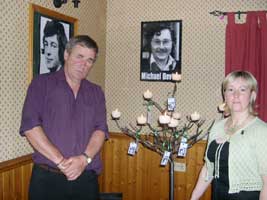 A large crowd gathered for a Hunger Strike Commemoration in Derrygonnelly, County Fermanagh last Saturday night.
Councillor Bernice Swift welcomed all those in attendance, with eight counties well represented, and a special welcome was extended to the ex-POWs in the audience: Councillor Póilín Uí Catháin and husband Donnacha, Councillor PJ Branley, former Blanketman Antaine Ó Fearghail and Tommy Maguire.
All present were emotionally gripped at the screening of the H-Block film H3, after which Councillor Swift invited 10 members from the crowd to symbolically place a lighting candle on the tree in memory of each of the Hunger Strikers, while a lament played softly in the background. The large crowd clapped loudly as each candle was placed. Councillor PJ Branley placed the last candle on the tree in memory of Michael Devine, the last man to die. Those present sang The Roll of Honour.
Councillor Swift stated that it was very important to remember all of Ireland's patriot dead and also acknowledged those present in the audience who had weighed in and supported the Hunger Strikers by electing Kieran Doherty and supporting Joe McDonnell, as well as the great achievement by the people of Fermanagh who proudly elected poet, writer, and freedom fighter Bobby Sands as their MP. They helped the men behind the wire, she said, when others turned their heads.
"One local unsung republican who definitely didn't turn his head was the late Phil Gallagher. Phil willingly helped the men behind the wire," she said, before calling on Councillor Póilín Uí Catháin to present the Gallagher family with an inscribed Celtic Cross in memory of Phil's selfless contributions during the struggle. "Phil was a man of few words, but a man of many deeds who stood out with the best. For those of us who knew him, Phil was a loyal and willing republican who will be sadly missed but fondly remembered by all." A DVD of the revolutionary Séamus McElwain was also presented.