24 August 2006 Edition
Michael Devine remembered across Ireland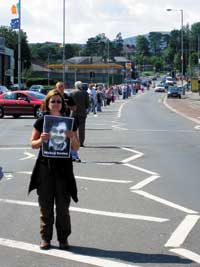 Last weekend and in subsequent days, Republicans across Ireland paid tribute to Michael Devine, the last of the 10 republican Hunger Strikers to give their lives in 1981.
Speaking before a vigil on O'Connell Street in the centre of Dublin City on Monday last, Sinn Féin TD Aengus Ó Snodaigh said: "Mickey Devine was a typical Derry lad whose family suffered all of the ills of sectarian and class discrimination inflicted upon the Catholic working-class of that city: poor housing, unemployment and lack of opportunity. He joined the Official IRA after witnessing firsthand the events of Bloody Sunday and ended up in the H-Blocks in June 1977. After spending four years on the blanket he went on Hunger Strike and on 20 August 1981 became the 10th and last man to die on the protest.
"As the commemorations to mark the deaths of each of the 10 men come to an end, we remember with pride Mickey Devine, along with his nine comrades, who collectively and so courageously defended the Republican Movement from the criminalisation policies of Margaret Thatcher.
"This evening's vigil comes on the back of the tremendous event in Casement Park where some 30,000 people from throughout the 32 counties of Ireland came out in support and remembrance of the Hunger Strikers and the cause for which they died.
"It is important that republicans continue to come out in support of the Hunger Strikers for it is only by remembering our past with pride that we can move forward to the future with confidence."