24 August 2006 Edition
Seawright revelation exposes Paisley hypocrisy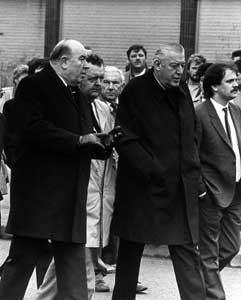 The illegal unionist paramilitary group the Ulster Volunteer Force (UVF), responsible for countless sectarian murders in the North since the late 1960s and for a string of bomb attacks in the 26 Counties, has admitted that a former leading representative of Ian Paisley's DUP was one of its members.
Sinn Féin Assembly member for West Belfast Fra McCann has said that the admission, which comes in a booklet published about the paramilitary group, raises serious questions for Ian Paisley to answer.
McCann said: "The revelation that former DUP councillor George Seawright was a member of the UVF will not surprise many within the nationalist community who had first hand experience of his sectarian politics in City Hall and elsewhere.
"However, it does raise serious questions for the DUP leader Ian Paisley. Seawright was one of Ian Paisley's right hand men for many years. We can only presume that he was also a member of the UVF at this time while the UVF was heavily involved in a sectarian murder campaign against Catholics.
"This revelation exposes once again the hypocrisy of Ian Paisley and the DUP when it comes to the issue of loyalist violence. Time and again, clear links between the DUP and loyalist death squads have been established. Time and again, the media allow the DUP leader off the hook. It is now time for the DUP and Ian Paisley to come clean and to live up to their responsibilities in bringing an end to unionist paramilitary campaigns and use their undoubted influence to see them engage with the IICD.
"The days of DUP hypocrisy on the issue of unionist violence must end if progress is to be secured."