24 August 2006 Edition
LUAS firm linked to illegal Israeli settlements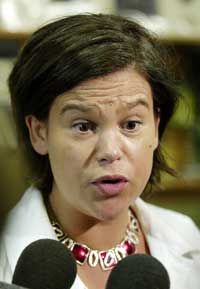 Sinn Féin Party Chair and MEP for Dublin Mary Lou McDonald has expressed concerns about the company operating the LUAS light rail system in Dublin.
The Ireland Palestine Solidarity Campaign has said that Veoila, formerly known as Connex, is involved in building a rail system to link illegal Israeli settlements in East Jerusalem.
McDonald said: "It does not surprise me that a multinational company is involved in the construction of a rail link between illegal Israeli settlements given that their main motivation is driven by profit. However, this same company also operates the LUAS system in Dublin.
"Given Israel's continued illegal occupation of Palestinian land and in view of the latest Israeli actions in Lebanon and Palestine, which were disproportionately aimed at the civilian population, it is of deep concern that this same company is also transporting people around the city of Dublin.
"Companies such as these are profiting on the backs of the suffering and despair of whole communities. Irish citizens make a connection with oppressed peoples across the world and I believe would be concerned by this revelation.
"I want to ask the Government, and specifically the Department of Transport, to state whether it is aware of this company's operations in East Jerusalem and if it approves of their actions."
New York Mayor handed letter
Meanwhile, New York Mayor Michael Bloomfield, during a visit to Sligo, was given a letter outlining Sinn Féin's position on the current situation in the Middle East.
The letter raised concerns about US involvement in conflict in the region, especially in Iraq.
Sinn Féin Councillor Sean MacManus said: "The root cause of the conflict in this region is the ongoing long-term failure to resolve the Palestinian-Israeli conflict. We also believe the invasion by the US and Britain of Iraq has deepened the crisis in the Middle East. On both of these matters the US must begin to adopt a balanced position. An immediate start can be made by announcing a short time frame for their withdrawal from Iraq," he said.
"In relation to the Palestinian/Israeli situation, we believe that there is need for a major change in US foreign policy. This should involve an even-handed approach to resolving the Palestinian/Israeli conflict on the basis of a two state solution. A breakthrough on this front would go a long way to overcoming the understandable hostility towards the United States in the region.
"Sinn Féin's long experience of dealing with the consequences of Britain's occupation of Ireland has convinced us that dialogue involving all sides is the only way to end wars. Such dialogue should commence at once in the Middle East, and the US must assume responsibility for starting this process. To delay will only result in more lives being lost in Iraq, Israel, Palestine and Lebanon," concluded MacManus.