24 August 2006 Edition
Ógra urge activists to mobilise and plan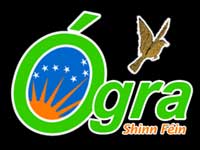 At the recent meeting of its National Executive on Saturday, 19 August, Ógra Shinn Féin formally ratified the new logo agreed at National Congress earlier in the year.
A number of other important issues were also dealt with at the meeting.
Upcoming student freshers' fairs were discussed. Ógra will target all colleges in which Ógra already exists, as well as those colleges where there is currently no Ógra Shinn Féin structure.
Ógra's suicide prevention campaign will conclude in October with the presentation of a petition to Tánaiste and 26 County Health Minister Mary Harney and British Direct Rule Minister in the Six Counties Paul Goggins calling for the implementation of an All-Ireland Strategy for suicide prevention. A vigil in memory of those who died by suicide is also planned for the end of the campaign.
There will also be an Awareness vigil at Belfast City Hall at 11.00 on Saturday, 26 August, just before Ógra Shinn Féin Uladh hold their AGM.
In addition to this, Ógra Shinn Féin will have a large contingent at the Sinn Féin national health rally in Dublin on 21 October.
The Ógra Shinn Féin National Congress 2006 was also discussed at the meeting. It will take place from 3 to 5 November in Dublin's Liberty Hall. Sinn Féin President Gerry Adams will address the gathering on Saturday, 4 November. International comrades will be invited and all of Ógra are urged to mobilise to set out a plan of work for the upcoming year.
Awaiting the Lark formally launched
Ógra Shinn Féin formally launched their recent publication looking at the Hunger Strike of 1981 on Saturday, 12 August. Awaiting the Lark is a collection of personal memories, recollections and accounts from various republicans about the Hunger Strike of 1981, and was launched in the Felons Club in West Belfast.
Raymond McCartney MLA, Dominic Adams, Michelle Gildernew MP and Séanna Walsh performed the launch.
Many of the people who wrote for the book were also in attendance.
Colm O'Neill of Ógra Shinn Féin chaired the event while Barry McNally explained the background of the book. Following this Michelle Gildernew, Dominic Adams and Raymond McCartney read their extracts from the book. Séanna Walsh then stepped forward to give a brief overview of the prison struggle and in particular the 1981 Hunger Strike.
A musician was also in attendance and played many songs reflecting on the events surrounding the participants and the Hunger Strike of 1981. The event then concluded with Amhrán na bhFiann.
Many known republicans wrote for the book including former blanket man and Hunger Striker Raymond McCartney, former Mayor of Kerry Toiréasa Ferris and the current MP for Fermanagh/South Tyrone Michelle Gildernew. Bobby Sands held that same seat in 1981 when the people of Fermanagh/South Tyrone elected him as their MP. The book deals with hunger strikes in Crumlin Road jail in the 1970s and Long Kesh in 1980, but deals mainly with the 1981 Hunger Strike and looks at it from a youthful perspective.