24 August 2006 Edition
Parades Commission criticised over loyalist bands
BY PEADAR WHELAN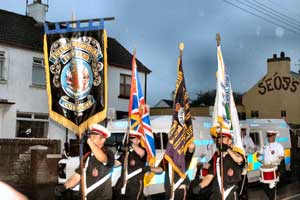 Sinn Féin representatives across the North are criticising the Parades Commission over the behaviour of loyalist bands at marches in Limavady and Rasharkin.
Sinn Féin Assembly member for East Derry Francie Brolly told An Phoblacht that loyalists aimed missiles at the residents of the Roemill Gardens area of Limavady, County Derry during a band parade on Wednesday night, 16 August.
According to Brolly, the parade organised by the Edenmore band should not have been allowed to march through the mainly nationalist part of the town.
"There is no need to bring 20 loyalist bands through a mainly nationalist residential area. This is not about culture; this is about trying to stir up trouble."
The Sinn Féin representative accused the PSNI of being confrontational with local nationalists while ignoring loyalists as they pelted the residents with missiles.
Meanwhile Sinn Féin's Daithi McKay has told An Phoblacht that he has lodged a complaint with the Police Ombudsman's office after the PSNI assaulted him at a loyalist band parade in Rasharkin, County Antrim.
McKay explained that a PSNI dog handler loosened the lead of an Alsatian attack dog and allowed it to attack him while a second PSNI member physically assaulted the Sinn Féin councillor.
During the loyalist band parade on Friday, 18 August, 35 loyalist bands - many with links to the UVF and UDA - paraded through the mainly nationalist County Antrim village of Rasharkin.
One of the bands, the Drumaheagles Young Defenders, was led by convicted UVF member Christopher 'Goosey' Gray.
According to McKay, residents are now in the process of collating evidence of intimidation and breaches of the Parades Commission's determination in relation to the Rasharkin parade.
Ballymena
Speaking ahead of a Sinn Féin meeting with the Parades Commission on Wednesday regarding a continuous loyalist parade in Ballymena, Sinn Féin North Antrim MLA Philip McGuigan said: "Obviously I welcome the fact that the Parades Commission are finally realising the seriousness of the issues that surround loyalist band parades that pass the north end of Ballymena.
"We in Sinn Féin have always said that people have the right to march and participate in parades but the issue in Ballymena is that there are those in the unionist community who wish to use this as an excuse to coat-trail past nationalist homes and intimidate the locals.
"Ballymena is a predominantly unionist town and there is ample geography within it for the bandsmen to parade peacefully and with the full support of the host community. This can be done without venturing into the nationalist north end of the town and seeking confrontation from that community.
"The Parades Commission and the Governments clearly need to understand the issues, so I would ask them to make a determination that not only entitles people the right to march, but entitles the nationalist people to live in their homes without the fear of unnecessary intimidation and unionist coat-trailing exercises."