17 August 2006 Edition
Hunger Strikers honoured in Lurgan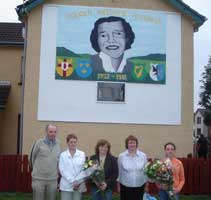 A crowd of over 1,500 people turned out in Lurgan for a parade and rally on Friday 3 August in honour of the Hunger Strikers. Led by a colour party of over 30 local former republican prisoners, the parade made its way through the Taghnevan area of the town.
New street signs had been erected at McCreesh Gardens and these were unveiled by Michael and Theresa McCreesh, the brother and sister of Volunteer Raymond McCreesh. In 1982, local people had campaigned for the official re-naming of the area after the County Armagh Hunger Striker. A new wall mural and a marble plaque dedicated to the Hunger Strikers were also unveiled by Michael and Theresa.
The rally was organised by the recently re-formed John Francis Green/Raymond McCreesh Sinn Féin Cumann and chaired by local MLA John O'Dowd, who paid tribute to all those involved in the organisation of the various events on the night. Presentations were also made by the local Sinn Féin Cumann to the families of Volunteer John Green and Volunteer Raymond McCreesh. The main speaker at the rally was Séanna Walsh, a former blanketman and a close friend and comrade of Bobby Sands. Walsh commented on the numbers of young people attending the event. Of the Hunger Strikers he said: "Their huge generosity of spirit, self-sacrifice and unselfishness have made Bobby Sands and his nine comrades role models for Irish republicans everywhere. Their titanic battle against great odds and over five difficult, harrowing years, caught the imagination and touched the hearts of millions.
"The determination of the men in the H-Blocks and the women prisoners in Armagh ultimately defeated the British government's criminalisation strategy. The enduring legacy of the Hunger Strikers is to be found all around us. Like the Easter Rising 65 years earlier, it is a watershed in modern Irish history. The political growth of Sinn Féin and of Irish republicanism is in no small measure a result of their courage.
"But more importantly, their legacy is to be found in the peace process and the positive transformation it has wrought in Irish society in recent years. That process of change continues. It is taking place every single day. For many the twenty-fifth anniversary of the deaths of the H-Block Hunger Strikers will be a personal as well as a political time of remembrance. But for everyone interested in freedom and justice and peace in Ireland it is a time to reflect on the lessons of the past and to commit to continuing the struggle to achieve a free, democratic and united Ireland.
"And I believe that we will succeed in doing that - not least because of the example set by Bobby Sands and his comrades."