17 August 2006 Edition
John Joe McGirl remembered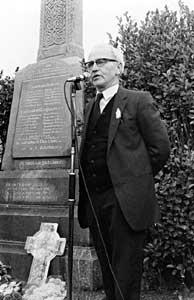 Republicans from County Leitrim and other rural border areas assembled in Ballinamore to commemorate the 18th anniversary of the death of leading republican John Joe McGirl.
The commemoration was held at the John Joe McGirl monument in the town. Those participating in the parade walked from the square and through the town to the monument.
The commemoration was attended by the late John Joe McGirl's wife Bridie and their family, including John Joe's brother Michael. It was also attended by Leitrim County Councillors Martin Kenny and Michael Colreavy and by West Tyrone Sinn Féin MLA Barry McElduff. At the monument, proceedings were chaired by Maura Mulvilhill and various wreaths were laid. Martin Kenny also addressed those present.
In his oration, Barry McElduff paid tribute to "the great John Joe McGirl for his lifetime of commitment to the struggle for Irish freedom". He traced John Joe's history of imprisonment, which began in the 1930s when he was held in Mountjoy Prison, later in the Curragh Prison and more recently in Long Kesh in the 1970s.
On a personal level, McElduff said that "a toast was always raised in our house at home in Carrickmore to John Joe McGirl and to men such as JB O'Hagan, John Davey and Jimmy Steele".
He said that John Joe made a huge impression on the people of Leitrim and throughout Ireland and that it was largely down to his efforts and personal sacrifice that such a strong base of support for republicanism was built up in the County. He reminded those present that John Joe had been an abstentionist TD between 1957 and 1961 and yet was able to embrace the idea of the major policy shift in 1986.
McElduff said that John Joe McGirl was never in any doubt about the true nature of the political problems in Ireland. He understood that true democracy in Ireland meant total separation from England.
Also over the weekend, the John Joe McGirl Memorial Lecture took place in the Commercial Hotel in the town. The theme of the lecture was 'True Democracy Demands Economic Sovereignty and Freedom From Multinational Theft'. The three speakers included Mícheál Ó Seighin, one of the Rossport Five; Sr Majella McCarron, who worked in Nigeria for many years and was central to the campaign to prevent Shell from putting a similar pipeline through the Niger Delta; and Tommy McKearney, a prisoner in the H-Blocks and Hunger Striker in 1980.