3 August 2006 Edition
Nuacht na nOibrithe
BY Justin Moran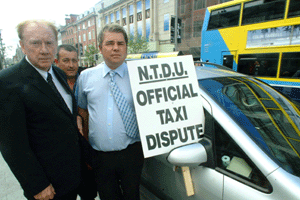 Success for South African workers following Sinn Féin intervention
Sinn Féin Workers Rights spokesperson Arthur Morgan TD has welcomed the ending of the exploitation of 19 South African workers who are employed by a Bus Eireann sub-contractor to fit safety belts in its bus fleet.
After a series of interventions by Sinn Féin, SIPTU and the Labour Inspectorate, the men are now all employed directly by Transport Components. The only outstanding issue which remains to be addressed is that of retrospective pay.
"Less than two weeks ago I exposed the case of a group of 19 South African workers who were employed in five locations across the state to fit safety belts in the Bus Eireann fleet," said the Louth TD.
"These men, who were not directly employed by any company in this state, were not receiving the minimum wage and were clearly being exploited.
"It is telling that following publicity about this case that it has been largely resolved in less than a fortnight. It shows what can be achieved when political pressure is applied. It's vital that employers, who are flouting the law, get the message that labour laws have to be fully implemented without exception. Any employer in breach of labour law should receive heavy penalties and be told very clearly that they will no longer be used for state contracts.
"But this is just one case. There are growing concerns about the pay and conditions of workers across a whole range of industries and these are issues that effect Irish workers and those who are working here from abroad."
Taxi drivers keep up the pressure
For the second time in a fortnight the state's taxi drivers went on strike on Tuesday adding to the pressure on Taxi regulator Ger Deering to compromise.
About 12,000 of the state's 17,000 taxi drivers took part with taxi driver representatives suggesting support for the strike was as high as 90% in Dublin. While some taxis were working, in a number of cases they were providing emergency cover.
The dispute centres around the system where the Dublin Airport Authority controls access of all taxis to the airport and charges an annual fee for all taxis. The Taxi regulator wants to abolish the E1.50 hiring charge taxi drivers levy for pick-ups at the Airport. Drivers say they are obliged to have this charge because they are charged by the Airport Authority. "This sends a loud and clear message to the taxi regulator that his changes are not welcome," said Taxi Drivers Federation President John Ussher. "Mr Deering will talk but he won't discuss changing his position and so we're not prepared to go into talks with this pre-condition."
Members of the three main taxi unions - the Irish Taxi Drivers' Federation, the National Taxi Drivers Union and Siptu - will meet on August 16th to decide what further action to take.
National cleaners' strike in South Africa
Over 20,000 cleaners organised in 16 separate unions are taking part in a national strike in South Africa.
The current minimum wage for a cleaner in an urban area in South Africa is just under a euro an hour, in rural areas it is less than 80c an hour. Workers are demanding wage increases of between 10 and 15 percent with an annual bonus of a month's pay.
Dolly Mlotshwa of the South African Transport and Allied Workers Union, the largest of the 16 unions involved, said a large majority of the workers were women, and sole breadwinners.
Urgent Appeal from Lebanese Unions
The Education International (EI), representing teachers' unions around the world, has issued an urgent action appeal in support of requests for humanitarian assistance from two Lebanese teachers' unions.
EI itself has made available immediately an initial amount of 20.000 EUR from the EI Solidarity Fund, which is being forwarded to EI affiliates in Lebanon, to provide humanitarian support to teachers and their families.
LabourStart is assisting by providing a secure online way to donate in your own currency using your credit or debit card. Please give generously today: