27 July 2006 Edition
"Asylum-seekers should not be held in prisons" - SF MEPs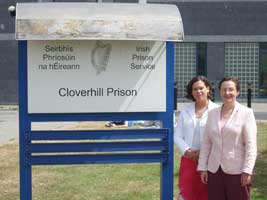 Sinn Féin's two MEPs Mary Lou McDonald and Bairbre de Brún visited Cloverhill Prison in West Dublin on Monday and slammed the detention of asylum-seekers.
Mary Lou McDonald stated after the visit:
"Today's visit to Cloverhill was about gathering as much information as possible on the procedures and treatment of immigrants held in Irish jails. We spoke with staff, the prison Governor and detainees themselves. We were particularly keen to see the conditions - the cells, health and education provision and facilities available for family reunions.
"Prison is not an appropriate place for those who await the processing of their asylum applications. Many people come to Ireland to escape war, famine or extreme poverty only to find themselves locked up at night between 7.30pm and 8.00 am in small cells for anything up to 56 days and receive closed visits. It is important to stress that these migrants have committed no crimes yet are being treated like prisoners inside such facilities.
"I will be anxious to raise with the Minister for Justice, the prison policy that permits those detained solely on asylum issues to be held three to a cell and to be denied regular open visits. This is an issue of government policy.
"There are also issues arising from the visit which I intend to raise with the Garda National Immigration Bureau, who remain a first point of contact for many people coming into Ireland."