27 July 2006 Edition
Price hikes hit households hardest
BY ROBBIE SMYTH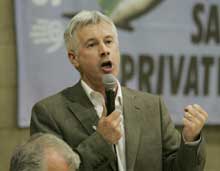 Price hikes hit households hardest
A 34% increase in gas prices, 20% in ESB charges and a 12.5% hike in VHI premiums, these are just some of the price rises facing households as energy and health market regulators allow massive price hikes to kick into the Irish economy in the coming weeks and months.
Responding to the energy price rises Sinn Féin TD and Social Affairs spokesperson Seán Crowe has called on the Coalition government to prioritise increases in fuel allowances in the coming budget while John McCafferty, head of justice and social policy at the Saint Vincent de Paul Society (SVP) has called on the government to consider lowering VAT on utility bills.
The new round of price rises comes on top of high prices for petrol, diesel and home heating oil. Thousands of families who are not on fixed rate mortgages or are new home buyers this year have also had to deal with increasing monthly payments.
The biggest price rise is coming in natural gas where the 34% increase will add nearly €300 annually to the average gas bill, the average gas bill will double from €605 two years ago to around €1,200 after the new price hike kicks in.
Driving the gas price rise is the cost of buying gas which has increased by 50% for Bord Gais this year adding €150 million to its costs.
The scandal of Ireland being rich in natural gas but being forced to pay extortionate prices to secure gas and oil supplies from abroad should be brought home politically to the Fianna Fáil/PD government, some of whom, including Bertie Ahern, were ministers in the government that agreed the Corrib give away to Enterprise Oil in 1992.
ESB prices will rise in January 2007 by up to 20%, coming on top of a 25% increase in October 2005 and an 11% in 2004. Sinn Féin's Sean Crowe highlighted the growing fuel poverty issue. Crowe said, the increases in gas and electricity prices will mean increases of 91% and 80% respectively over the last five years, while the fuel allowance has increased only 120% over the last twenty years".
The fuel allowance had been increased in 2006 but Crowe said "the reality is that this increase will be wiped out and then some by the proposed fuel increases".
The SVP have targeted the 13.5% VAT rate on ESB and gas bills, calling on the government to reduce the VAT rate which in Britain is only 5%. McCafferty said: "The VAT is money that goes back into the state's coffers and we believe there's scope to look at how we could further protect those on low incomes or increase help with energy costs".